Wenezuelskie Ska w wydaniu Sin Sospechas...
2005-09-22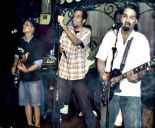 Zapraszam wszystkich zwolenników gorących latynoskich brzmień oraz muzyki ska na koncerty jednej z największych grup tego typu w Ameryce Południowej – weteranów z Wenezueli SIN SOSPECHAS.
Zespół po raz pierwszy pojawi się w Polsce.
Koncerty na trasie w Polsce:
4.10.2005, godz. 20.00
Szklarska Poręba, Willa Zakręt, ul. Górna
bilety 8 PLN
po koncercie ska party
5.10.2005, godz. 20.00
Zakopane, Ampstrong, ul. Jagiellońska 18
bilety 8 PLN

6.10.2005, godz. 22.00
Warszawa, Punkt, ul. Koszykowa 55
bilety 12 PLN
7.10.2005, godz. 20.00
Wrocław, Łykend, ul. Podwale 37/38
bilety 10/12 PLN
POCZĄTKI:
Sin Sospechas to pionierski zespół na wenezuelskiej scenie ska oraz najważniejsza formacja w kategorii latynoskiego ska z długą historią 14 lat ciągłego grania. Powstali w popularnej dzielnicy Caracas nazywającej się Caricuao. Od tamtej pory okolice te nazywane są "rude zone" ("strefa rudies"), w związku z silnymi wpływami jamajskiej muzyki, której słucha się tam bardzo dużo.
WPŁYWY:
Wiele zespołów miało bezpośredni wpływ na Sin Sospechas a w wyniku wspaniałego mixu różnych muzycznych trendów narodziło się prawdziwe latino ska. Niektóre z grup, które miały wpływ na obecny charakter zespołu to Los Fabulosos Cadillacs, Los Pericos, Todos tus Muertos, The Specials, Madness, Mano Negra, Rubén Blades, Café Tacuba.
TEKSTY:
Dla Sin Sospechas różnorodność to to, co krąży po orbicie i inspiruje do "powiedzenia czegoś". Od wczesnych lat 90-tych mieli w repertuarze takie ważne utwory jak "Los Abuelos del Ska", który ciągle pozostaje ich hymnem oraz "Abstención al Poder", utwór, którego polemiczny tekst doprowadził ich nawet do telewizji, gdzie prezentowali i bronili swojego punktu widzenia. "Muzyka jest integralną częścią rzeczywistości" – tak mawiają ludzie i jest to pobożne życzenie w ich kraju.
Po latach dojrzewania, zespół łączy uniwersalne tematy takie jak miłość, imprezowanie, refleksje społeczne czy polityczne bez zaangażowania w polemiczne terytoria, które mogłyby urazić innych ludzi.
POMARAŃCZOWE SKA:
Graficzna idea Sin Sospechas narodziła się w 1996 roku gdy ukazała się płyta "Venezuela SKA Vol.# 1, gdzie grupa po raz pierwszy stworzyła swój pomarańczowo – czarny image, kontrastujący z czarno-białą ornamentyką europejskiego 2Tone ska i dodający ciepły karaibski klimat. Pomarańczowe ska dostaje się na logo zespołu i uwidacznia się w ich ubraniach scenicznych. To więcej niż latynoskie ska, to obecnie wenezuelskie ska.
Sin Sospechas na początku wykorzystywali radykalne ikony: garnitury, ciemne okulary, kapelusze, bardzo różniące się od obecnego tancerza rude, który tańczy już bez żadnego elementów identyfikacyjnych ruchu.
STRONA www zespołu (mp3, zdjęcia, video itp.)
ALBUMY:
Trainskatting (CD - Caracas 2002) Independent
Recopilación 91 – 97 (Cassette - Caracas 1.998) Independent
La Bronka Petrolera (Cassette - Spain 1996) składanka wenezuelskich zespołów
Venezuela SKA Vol.# 1 (CD – Wenezuela 1996, Meksyk 1997, Hiszpania 1998) składanka wenezuelskich zespołów
Resto Pollo Rico 2 (CD - Sabor Discos, Francja - 2004) Składanka latynoamerykańskich zespołów.