WESTBOUND TRAIN + THE VALKYRIANS
2007-03-28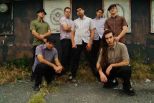 20 kwietnia (piątek) w Gdyni, w klubie Ucho (ul.Św.Piotra 2) o g.20.00 uczta dla fanów jamajskiego brzmienia. POdczas koncertu wystąpią: WESTBOUND TRAIN (soul, rocksteady, ska reggae z Bostonu (U.S.A.) - grupa nagrywa dla amerykańskiej firmy Hellcat/Epitaph), THE VALKYRIANS (ska z Finlandii) oraz ska-band z Trójmiasta WERSJA DE LUX.
Wstęp 20 zł (przedsprzedaż) i 25 zł (w dniu koncertu).
Dla WESTBOUND TRAIN i THE VALKYRIANS będzie to jedyny występ Polsce podczas obecnej trasy.