WC + THE DAMROCKERS + ROWER REVERB
2008-02-29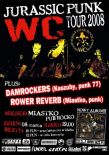 Gdy na początku lat 80-tych XX polską sceną rockową wstrząsnął boom kapel punkowych, jedną z najbardziej wyrazistych, a zarazem najbardziej cenionych formacji nowego rocka stała się - pochodząca z Miastka - grupa o nazwie WYIDEALIZOWANA CIEMNOŚĆ, która szybko zapadła w pamięć wszystkich obserwatorów muzycznej rebelii jako WC.
Zespół niezmiennie będąc w czołówce punkowej sceny, przyciągał swoim nieszablonowym repertuarem punkową publiczność aby wreszcie w 1983 po historycznym "koncercie pożegnalnym" z udziałem... sił porządkowych ludowej Ojczyzny zawiesić działalność nie doczekując się żadnych wydawnictw.
Na szczęście grupa dość szybko powróciła, choć jej aktywność przybrała formę bardziej incydentalną.
W 1984 roku w Domu Kultury w Miastku zespół zarejestrował materiał, który kilka lat później stał się wydawnictwem kasetowym o tytule "Archiwum" wydanym przez Studio Złota Skała, a wcześniej kopiowany był w muzycznym podziemiu przez setki i tysiące fanów.
Po kolejnym pożegnaniu i zejściu ze sceny grupa powróciła aby odbyć serię koncertów i zarejestrować album pt. "Wyciągając rękę po...", który wydała firma Silver-ton i który w opinii samych muzyków nie był spełnieniem ich marzeń. WC ponownie znikło ze sceny...
Przełomowym momentem w karierze zespołu stał się rok 2005, kiedy to szczecińska firma Jimmy Jazz Records oddała w ręce fanów, wydany na CD, historyczny materiał pt. "Archiwum" z 1984 roku, uzupełniony nagraniami koncertowymi.
Wydanie płyty stało się impulsem do kolejnego powrotu na scenę... który tym razem zaowocował nowymi nagraniami publikowanymi na składankach, seriami koncertów i przygotowywaniem nowego materiału studyjnego.
18 lutego br. wytwórnia Jimmy Jazz wydała najnowszy album grupy zatytułowany "Jurassic Punk", zawierający nowy, szalony, punkowy materiał, w którym WC pokazuje, że nadal jest w czołówce polskiej sceny niezależnej, nadal ma wiele do powiedzenia i jest w stanie potrząsnąć najbardziej skostniałymi po(d)stawami. Energia powstałych współcześnie utworów w połączeniu z melodyjnością znaną sprzed lat, charakterystycznym wokalem i intrygującymi tekstami daje piorunujący efekt, który nie tylko fanów zespołu rozpala od pierwszych dźwięków.
Przed laty koleje losu rzuciły lidera zespołu do Szczecina co zaowocowało współpracą z lokalnymi muzykami i spowodowało, że WC jest obecnie zespołem szczecińskim.
Fakt powiązania historii grupy z Miastkiem i Szczecinem muzycy zespołu postanowili przypomnieć w ramach działań promujących nowy album. Z tej okazji przygotowane zostały dwa koncerty dla fanów WC w obu miastach.

8 marca, w ramach powrotu do historycznych poczatków działalności, grupa WC wystąpi na koncercie w Miastku, a wspierać ja będzie lokalna formacja ROWER REVERB oraz goście z grupy THE DAMROCKERS. Podczas koncertu, którego początek zaplanowano na godz. 19.00 zespół zaprezentuje zarówno materiał z nowego albumu "Jurassic Punk", jak i starsze utwory, znane fanom z przeszłości i wcześniejszych wydawnictw.
Dwa dni wcześniej zespół pojawi się na scenie szczecińskiego klubu KONTRASTY.