WC + KARCER + ZERO
2007-11-22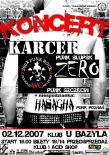 2.12.2007 zapraszamy do klubu U Bazyla (Poznań, ul. Św. Wojciech 28) na koncert gwiazd polskiego punk rocka. Zagrają legendarne formacje: KARCER, WC i ZERO oraz młoda poznańska grupa HASAGHA. Bilety 14 zł (przedsprzedaż w klubie i Acid Shop) i 18 zł w dniu koncertu. Start o godz. 18.00.
Grupa WC – powstała w połowie 1981 roku w Miastku wraz z przyjściem do Polski pierwszej fali punk – rocka. W muzyce zespołu od początku charakterystyczne były proste konstrukcje muzyczne sięgające do rock'n'rollowych korzeni, wymowne i lekko filozoficzne teksty oraz szczerość i dynamika przekazu. W różnych etapach działalności zespołu muzyka ewoluowała nieco w stronę nowej fali, czasem rock'n'rolla, przez awangardę aż do grunge'u. Zawsze jednak słyszalne jest to samo WC i ten sam charakterystyczny wokal oraz punk rockowe wibracje. W latach 80-tych WC stało się swoistym symbolem zespołów podziemnego obiegu. Z rąk do rąk przechodziły nagrania z prób i koncertów powielane nieskończoną ilość razy, a na koncerty przyjeżdżali ludzie nawet z dalekich zakątków kraju. Najbardziej popularnym zbiorem nagrań WC w tamtym czasie był koncert z krakowskiej rotundy "OPEN ROCK 1982", potem zbiór amatorskich nagrań pod roboczą nazwą "Archiwum". Po kilkunastu latach Golden Rock wydał oficjalną edycję "Archiwum", a w 2005 Jimmy Jazz Records CD "Archiwum" wzbogacony o bonusy koncertowe. W pierwszym okresie działalności podstawę WC tworzyli: Jaromir 'Młody' Krajewski (śpiew), Leszek (gitara), Wiesław (bas) i Jan T.G (perkusja, saksofon) W 1994 r. ukazał się pierwszy studyjny materiał WC wydany przez Silverton będący próba poszerzenia brzmienia. Obecnie w WC rdzennych członków zespołu wspierają muzycy takich grup jak Analogs i Włochaty. Wzmożona aktywność koncertowa jest efektem przygotowania nowego albumu – "Jurassic Punk", który już w styczniu 2008 powinien pojawić się dzięki firmie Jimmy Jazz Records. WC tworzą: Jaromir (śpiew), Skoda (gitara), Dmuchacz (bas) i Billy (perkusja).
KARCER powstał jesienią 1982 roku w Słupsku a w składzie znaleźli się wówczas: Krzysztof Żeromski, Piotrek Dudziński, Jarek Jodłowski. Na scenie zaprezentował się po raz pierwszy w styczniu 1983 z dwoma kawałkami na Eliminacjach do VII ogólnopolskiego Młodzieżowego Przeglądu Piosenki a swój pierwszy "prawdziwy" koncert zagrał w tym samym w Miastku z grupą WC. W kwietniu 1983 zmienił się skład zespołu - Krzysztof Ż. (git.), Adam Lao (bas) i Wojtek Soboń (dr) i Gosia Belgrau (voc.), który był próbą eksperymentowania z new wave. Krzysztof Ż. powołał jednak na nowo Karcer w nowym składzie, który tym razem miał wstrząsnąć Jarocinem w 1985. W nowej czwórce znaleźli się: Krzysztof 'Ferment' Żeromski (gitara, śpiew, teksty, muzyka), Dariusz 'Czarny' Lewandowski (śpiew), Dariusz 'Koń' Elwert (bas) i Wojciech Soboń (perkusja). Swobodą obyczajów Karcer zadziwił całą publikę Jarocina '85 i naczelnych punk rockowych ideologów ówczesnej Polski Ludowej. Mowa tu oczywiście o Pikniku Waltera. W nagrodę za to zespół wystąpił w finałowym koncercie na dużej scenie. Jeszcze tego samego roku zagrali na Róbrege, koncerty w Szczecinie, Łodzi, Poznaniu, Toruniu, etc. Rok później Karcer znowu zagrał w Jarocinie - tym razem ubrany kompletnie, znalazł się wśród Złotej Dziesiątki. Od 1987 zespół zaczął występować w trójkę, bez Czarnego a w 1990 skład zespołu tworzyli: Krzysiek Ż. (gitara, śpiew), Adam Lao (bas), Tomasz Fangrat (perkusja) i Przemek Brosz (gitara, śpiew). W tym składzie zagrali na Róbrege i wydali w tym samym roku taśmę 'Turning To Dust'. W 1991 w gdyńskim Modern Sound z Adamem Toczko zrealizowali swoją pierwszą profesjonalną płytę wydaną przez Arston a wkrótce wyjechali na swój pierwszy zagraniczny wojaż - do Szwajcarii wspólnie z Apteką. Po trzech latach pobytu za granicą powstał materiał na płytę "Wschód jest pełen słońca", wydaną na przez firmę Rock'N'Roller (reedycja na CD w 2002). W 2002 ukazała się też zupełnie nowa płyta zespołu - "Nic nikomu o niczym" - album wydany przez Jimmy Jazz Records. Obecnie Karcer to trio: Krzysztof Żeromski – gitara, śpiew, Adam Lao – bas i Daniel Łukasik "Czasza" (perkusja). Jesienią 2007 zespół świętuje swe 25 lat i promuje nowy album "Anarchiva" zawierający nowe wersje starych przebojów grupy, które jednak nigdy nie były profesjonalnie zarejestrowane i opublikowane.
Grupa ZERO to pierwszy słupski zespół punk rockowy, powstały w 1980 roku. Przez 3 lata działalności zagrali sporo koncertów między innymi z grupami WC, Karcer czy PKS, w której to kapeli pierwsze kroki jako perkusista stawiał wokalista grupy Zero. Po rozpadzie w 1983 roku perkusista Wojtek Soboń zasilił Karcer, z którym w latach 1985-86 grał w Jarocinie, a wraz z Koniem - basistą Karceru z tamtego okresu, grają w obecnym składzie grupy Zero. Do zespołu dołączył także drugi gitarzysta Romek Kiziniewicz, wcześniej grywający w Słupskich kapelach hardcore, między innymi w kapeli Dirt.
HASAGHA to młody zespół punk z Poznania i okolic istniejący od 3 lat. Tworzą go Kinia (śpiew), Goblin (gitara, śpiew), Cytz (bas) i Sid (perkusja). Mają na koncie pierwsze demo "Ruch oporu".