WC - "Jurassic Punk" - Dinozaury nadciągają!!!
2008-01-31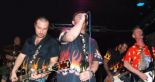 Gdy na początku lat 80-tych XX polską sceną rockową wstrząsnął i do góry nogami wywrócił boom kapel punkowych, jedną z najbardziej wyrazistych, a zarazem najbardziej cenionych formacji nowego rocka stała się - pochodząca z Miastka - grupa o nazwie WYIDEALIZOWANA CIEMNOŚĆ, która szybko zapadła w pamięć wszystkich obserwatorów muzycznej rebelii jako WC.
Zespół niezmiennie będąc w czołówce punkowej sceny, przyciągał swoim nieszablonowym repertuarem punkową publiczność aby wreszcie w 1983 po historycznym "koncercie pożegnalnym" z udziałem... sił porządkowych ludowej Ojczyzny, zawiesić działalność nie doczekując się żadnych wydawnictw.
Na szczęście grupa dość szybko powróciła, choć jej aktywność przybrała formę bardziej incydentalną. W 1984 roku w Domu Kultury w Miastku zespół zarejestrował materiał, który kilka lat później stał się wydawnictwem kasetowym o tytule "Archiwum" wydanym przez Studio Złota Skała, a wcześniej kopiowany był w muzycznym podziemiu przez setki i tysiące fanów.
Po kolejnym pożegnaniu i zejściu ze sceny grupa powróciła aby odbyć serię koncertów i zarejestrować album pt. "Wyciągając rękę po...", który wydała firma Silver-ton i który w opinii samych muzyków nie był spełnieniem ich marzeń. WC ponownie znikło ze sceny...

Przełomowym momentem w karierze zespołu stał się rok 2005, kiedy to firma Jimmy Jazz Records oddała w ręce fanów, wydany na CD, historyczny materiał pt. "Archiwum" z 1984 roku, uzupełniony nagraniami koncertowymi. Wydanie płyty stało się impulsem do kolejnego powrotu na scenę... który tym razem zaowocował kolejnymi nagraniami publikowanymi na składankach, seriami koncertów i przygotowywaniem nowego materiału studyjnego.

"Jurassic Punk" to nowy, szalony, punkowy materiał, w którym WC pokazuje, że nadal jest w czołówce polskiej sceny niezależnej, nadal ma wiele do powiedzenia i jest w stanie potrząsnąć najbardziej skostniałymi po(d)stawami. Energia powstałych współcześnie utworów w połączeniu z melodyjnością znaną sprzed lat, charakterystycznym wokalem i intrygującymi tekstami daje piorunujący efekt, który nie tylko fanów zespołu rozpali od pierwszych dźwięków. Pośród powstałych ostatnio kompozycji muzycy umieścili kilka muzycznych niespodzianek nawiązujących do przeszłości co tylko jeszcze bardziej wyostrza smak tego krązka
Premiera płyty 18 lutego. Pierwszym singlem promującym album będzie utwór "Pozycja", który za kilka dni trafi do rozgłośni radiowych, a już dzisiaj udostepniamy go także w formacie MP3 wszytskim zainteresowanym.
Patrz - WC "Jurassic Punk" ---> Tracklista

Tradycyjnie z odpowiednim wyprzedzeniem uruchomimy sprzedaż przedpremierową płyty w specjalnej cenie. Czytajcie informacje na naszej stronie!!!