Vespa ujawnia diamenty i jedwabie....
2016-08-26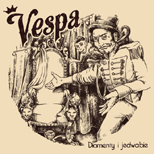 "Diamenty i jedwabie" to tytuł piątej płyty w dorobku szczecińskiej formacji Vespa. Zespół, choć nieprzerwanie koncertujący, kazał czekać na nowe wydawnictwo ładnych parę lat. Lecz kto miał okazję zobaczyć ich na przedpremierowej trasie, wie, że było warto. Vespa nagrała płytę w niezwykle energetycznym składzie z nową wokalistką na czele. "Diamenty..." to 12 kompozycji utrzymanych w tonacji swing, ska i szeroko pojętego retro. Osy zabiorą słuchaczy do zadymionych barów, na skraj miasta, czy nawet do kaplicy więzienia o zaostrzonym rygorze. Nie zabraknie też znaku rozpoznawczego zespołu, czyli absurdalnego poczucia humoru, które nieprzerwanie towarzyszy im od zarania dziejów.


Jeden z najdłużej parających się w kraju muzyką ska/swing składów, wie jak wyciągnąć nawet najbardziej opornych na parkiet. Skoczne linie sekcji dętej, charyzmatyczna wokalistka i zamiłowanie do wszystkiego co powstało przed 69 rokiem "kiedy życie miało styl" nie pozostawią nikogo obojętnym.
Nowym wydawnictwem Vespa wykonuje kolejny krok w kierunku mieszania ska z innymi gatunkami a także coraz chętniej sięga po style muzyczne jeszcze od niego starsze. Mento, americana, czy najstarsze odmiany R&B zdają się naturalnie pasować do gustów szczecińskiego septetu w lakierkach i spodniach na kant. Zarówno miłośnicy starszych wydawnictw spod znaku Osy jak i ci którzy sięgną po ich twórczość po raz pierwszy znajdą na "Diamentach i jedwabiach" coś dla siebie.  Wydawca płyty jest Lou&Rocked Boys.


Zamów ----> CD VESPA - Diamenty i jedwabie