VANS "OFF THE WALL" MUSIC NIGHT - 666 Aniołów, The Kolt, Soulburners, Lord...
2009-10-13
VANS "OFF THE WALL" MUSIC NIGHT
ROCK'N'ROLL HORROR #8

30.10.2009

Centralny Dom Qltury
ul. Burakowska 12
Warszawa

koncert:
666 ANIOŁÓW (Misfits tribute band)
THE KOLT (psychobilly)
SOULBURNERS (rock)
GENETIKS (postpunk)
LORD (shock metal)
POSING DIRT (garage punk'n'roll)

DJs: Crazy Seniorita, Ghostmaniac, Yvonne, Mauy, Bigos
rock'n'roll, '77 punk, death rock, psychobilly, goth'n'roll, glam rock, neoswing

start 20.00
wst. 17 zł przedsprzedaż, 25 zł w dniu koncertu

wizualizacje horror
ZOMBIE WALK slide show!

W trakcie imprezy zostanie przeprowadzony konkurs dla publiczności, w którym można będzie wygrać gitarę elektryczną!!!
666 ANIOŁÓW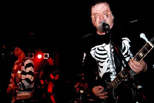 666 ANIOŁÓW to "tribute band" dedykowany tworczości MISFITS - amerykańskiej legendy horror-punka. 666 ANIOŁÓW nie stawia sobie za główne zadanie odgrywania utworów w wersjach jak najbilższych oryginałom. Wierność starym wersjom jest ważna, jednak czasem pozwalają sobie na pewne zmiany w aranżacji czy w brzmieniu. W ten sposób łączą chęć oddania hołdu genialnym twórcom z wlasną inwencją i wyobraznią.
Na początku roku 2008 nakładem niezależnej wytwórni Burning Chords ukazała sie płyta 666 ANIOŁÓW pt. "Czarcilok". Zawiera ona utwory zespołu MISFITS z tekstami tłumaczonymi na polski.
Anioły to na codzień muzycy znanych bydgoskich kapel SCHIZMA, IN SPITE OF i THE CUFFS.
www.myspace.com/138angels

THE KOLT


to nazwa znana polskim miłośnikom grania spod znaku psychobilly. Zespół powstał w Pułusku w 2004 roku, a w jego skład wchodzą muzycy udzielający się w takich formacjach jak KOMETY, ROBOTIX, SKARPETA, THE CUFFS, KUFLERS i 22 PM. Po wydaniu dwóch albumów - "Neony Kina Narew" (Jimmy Jazz Records 2005) i "Odsłona 2" (Jimmy Jazz Records 2007) zespół powraca w nowym składzie oraz z odświeżonym, bardziej stylowym brzmieniem. Nowy album The Kolt - "Curse of number 3" zaskoczy tych, którzy spodziewali się kontynuacji tego, co kapela przedstawiała dotychczas - większość numerów została zaśpiewana po angielsku, a muzycznie zespół zbliżył się do klasycznego brzmienia psychobilly, nie popadając przy tym w schematy. Nowy repertuar spotkał się z bardzo dobrym przyjęciem ze strony publiczności podczas koncertów m.in. z Long Tall Texans i Death Valley Surfers, a słuchająć "Curse Of Number Three" będzie można będzie się przekonać jak zespół wypadł w studiu.
www.myspace.com/thekolt
SOULBURNERS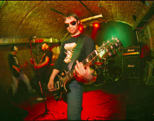 Soulburners określani są jako "rock'n'rollowa petarda", która od blisko czterech lat daje wybuchowe koncerty w Polsce i poza jej granicami. Zespół tworzą doświadczeni muzycy, którzy udzielają się lub udzielali m.in. w Black River, Wrinkled Fred, El Dupa, Coalition, Hundred Inch Shadow, Poker Face i wielu innych. Do tej pory grupa ma na koncie album "Gonna Burn Your Soul" z 2008 roku, a teraz szykuje się do wydania 6-utworowej EPki. Na myspace zespołu można już słuchać pierwszego pochodzącego z niej utworu - "Burning Heart".
Jeśli słuchasz AC/DC, Kiss, Motorhead, Turbonegro czy Hellacopters, jeśli kochasz rock'n'rolla i dobrą zabawę - nie możesz przegapić Soulburners! KEEP BURNIN'!
http://www.myspace.com/soulburnersrock

GENETIKS

Grzanka na pełnych obrotach. Granie szybkie, mocne, hałaśliwe, ale i melodyjne. Jazda mocno transowa i wysoce energetyzująca. Między Girls Against Boys i The Fall a Killing Joke. Agresywne rytmy, postpunkowe gitary i klawiszowe krautrockowe pasaże. Maximum Rock'n'Roll napisał: "Think NOMEANSNO mixed with KRAFTWERK", co może być całkiem trafnym spostrzeżeniem, tyle że Genetiks nie są tak jak Nomeansno połamani ani tak jak Kraftwerk powolni. Niemcy mają na koncie dwa albumy, a trzeci zapewne w drodze. Występ w CDQu będzie ich drugim koncertem w Warszawie – dwa lata wcześniej zagrali na Oldskullu w Aurorze. Przebieranki jak najbardziej możliwe – niedawno kapela występowała w uniformach rzymskich legionistów, tyle że jej członkowie bardziej niż niepokonanych żołnierzy cezara woleli raczej przypominać bohaterów komiksów Rene Gościnnego o Asterixie...
www.myspace.com/gggenetiks

LORD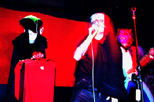 LORD narodził się 1999 roku (czyli odwrócone 666!) w Łodzi w noc pełną błyskawic i grzmotów piorunów. Pomysł założenia formacji był efektem fascynacji satanistycznymi obrzędami i afrykańskimi rytualnymi tańcami godowymi. Fuzja tych rzeczy plus kilka jaboli spowodowała, że tej samej nocy powstał materiał na pierwszą płytę. W zespole udzielali się
członkowie takich formacji jak 19 Wiosen, Pustostator, Neuma, Procesor Plus, Insane, Super Girl & Romantic Boys czy Diable. Ale to nie istotne gdyż te projekty nie mają nic wspólnego z prawdziwymi twarzami muzyków, które mogą zaprezentować w Lordzie. Zespół nagrał tylko dwie płyty w czerwcu 2002 roku, wydane zostały na jednej płycie przez wytwórnię ZGNIŁE MIĘSO. Dali w ciągu dwóch lat tylko kilkanaście koncertów. Występy tej grupy to istne przeżycie fizjologiczno - mistyczne, krew, trumna, dym i maskarada. Jest mrocznie i radośnie.
W 2003 roku zawiesili działalność po wieści iż jakoby Lucyfer wyjchał na wakacje na Jowisza. W tym roku powraca z wakacji tak jak i Lord, specjalnie na święto zmarłych reaktywuje się na dwa koncerty (30 paź. Warszawa CDQ i 31 paż. Łódż – Jazzga)

Skład zespołu:
Lord Fran to nie człowiek – to diabeł wcielony, porywa ludziom żony wyrywając i błony.
Lord Mich – krwawa czacha zabija małe dzieci, robi z głowy omlecik a resztę na śmieci.
Lord Greg – zombie admirał gwałci księży i zakonnice, wyrywa im tchawicę potem wpada w kurwicę.
Lord Jac to dopiero ścierwo. Wypatrasza wszystkich wokół, więc mu lepiej daj dziś chuju spokój.

POSING DIRT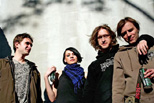 POSING DIRT - Idea towarzysząca Posing Dirt sięga na długo zanim wszyscy członkowie tej załogi zaczęli występować pod wspólną nazwą.Założycielami są Greg (gitara) i Szymon (perkusja), potem dołączyła Kamila (wokal) i Kamil (bas). W pełnym składzie Posing Dirt zaczął swoje próby na wiosnę 2008,
żeby w lipcu zagrać pierwszy gig. Grali w No Mercy, Jadłodajni Filozoficznej, na warszawskiej Elbie, w lubelskiej Tekturze, łódzkiej Luce i w Teatrze-Akcji w Suwałkach. Muzyka, którą gra Posing Dirt można określić jako "garage punk", zespół gra ostro, szybko i bardzo melodyjnie.
www.myspace.com/posingdirt