ULICZNIK FEST # 4
2009-01-14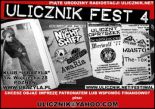 ULICZNIK FESTIWAL # 4 – Piąte urodziny Radiostacji Ulicznik.
Zegarek cały czas tyka, nikt nie jest w stanie go zatrzymać. Minął kolejny rok działalności Radia Ulicznik co ta największa internetowa rozgłośnia promująca muzykę niezależńą postanowiła uczcić kolejnym - wzorem lat ubiegłych - koncertowym akcentem, którym będzie trzydniowy festiwal muzyczny spięty nazwą ULICZNIK FEST 4 zorganizowany dokładnie w 5 rocznicę powastania radia... co rozgłośnia odnotowuje w materiałach informacyjnych na temat Fest-u:
"Byliśmy już w Zawoji, byliśmy w Bielsku Białej i Wrocławiu, teraz przyszła kolej na Poznań. Właśnie w Poznaniu, w zaprzyjaźnionym z nami klubie U Bazyla świętować będziemy kolejne urodziny. 13, 14, i 15 lutego 2009, bo to DOKLADNIE 13 Lutego 2004 – w ten NIESZCZESLIWY, TRZYNASTY PIATEK - powstała Radiostacja Ulicznik.net ...
Impreza trwająca 3 dni, masa zespołów z rodzimej (ale i nie tylko) sceny. Szykuje się coś za co moherowe berety powytykają nas paluchami, gdzie piwo będzie lało się wiadrami, gdzie spotka się całą Uliczna Rodzina – prowadzący, słuchacze, przyjaciele.
Z tej właśnie okazji ogłaszamy konkurs w ramach "Otwartej Sceny" – konkurs dla młodych, chcących się wybić i pokazać światu zespołów. Super okazja dla MLODYCH zaczynających dopiero KAPEL, by zagrać przed bardziej "obitymi" juz na scenie i znanymi! Piszcie na: uliczniknet@yahoo.com , w tytule maila "OTWARTA SCENA".
Zgłoszenia przyjmujemy do 16 Stycznia. Każdy z Was ma szanse dostania się na tą scenę, zwłaszcza zespoły promujące się w ulicznikowym OTWARTYM GARAZU!
Zasada jest prosta – zjawiacie się wraz z gitarami, blachami, itp. sprzętem niezbędnym do zagrania koncertu (nagłośnieniem nikt się martwić nie musi) w klubie zaraz przed imprezą, wypijamy wspólne piwo i zaczynacie swoja ostrą jazdę dla Ulicznej publiki. Zapraszamy!"
ULICZNIK FEST # 4
13-14-15.02.2009
Poznań, Klub U Bazyla

Trzy dni muzyki, trzy dni zabawy, trzy dni spędzone z ":Radiową Rodziną". Największe gwiazdy polskiej, ale i nie tylko sceny: THE NIGHTSHIFT (horrorpunk, Szwecja), Bachor, Awaria, Headhunters, Wherwolf 77, Disorient, Uliczny Opryszek, Dumbs, Ga-Ga, Zielone Żabki, Miasto, The-Tox, a do tego młode talenty w ramach promocji "Otwarty Garaż" (www.promo.ulicznik.net).
Więcej informacji na temat festiwalu, oraz archiwum przeszłych imprez znajdują się na stronie: www.ulicznik.net/festiwal
Prosimy Wszystkich "Uliczników" o rozwieszenie u siebie w mieście kilka plakatów ( do pobrania na stronie festiwalu ), aby przybyło Nas i Was jeszcze więcej. Będzie się działo…
Zapraszamy !