Trzecia część DVD "Bad Boys For Life"
2006-11-17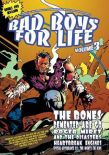 Niemiecka firma PEOPLE LIKE YOU przygotowuje dla fanów ruchomych obrazków połaczonych z muzyką kolejną część wydawnictwa "Bad Boys For Life" będącego - już tradycyjnie - rejestracją fragmentów koncertów odwiedzających wiele niemieckich miast i odbywających sie co roku z udziałem wykonawców związanych z tą wytwórnią.
Także tym razem przygotowywane DVD będzie zawierało 2 płyty na których znaleźć będzie można takze teledyski i specjalne dodatki...
Poniżej zawartość DVD.
DISC 1
HEARTBREAK ENGINES:
-Stalker
-Built My Hate
-She doesn´t like it
-Ain´t my world
-Evil Wings
THE DISASTERS:
-Kiss Kiss, Kill Kill
-1984
-Warning, Warning
-Give ´Em The Boot
-I Don´t Like You
-Noho Soho
-Punch The Clock
-New York Belongs To You
-Gotta Go
DEMENTED ARE GO:
-Human Slug
-Call Of The Wired
-Daddies Makin' Monsters
-The Noose (That Snapped)
-Blood Beach
-Cast Iron Arm
-Zombie Stalk
THE BONES:
(tracklista nie potwierdzona, możliwe zmiany)
-Half of Nothing
-Somethings Wrong
-Hate
-Gasoline Business
-Barbie got killed
-Not a Love Song
-Dog Almighty
-Zero to Zen
-Do You Wanna
-Little Surfin Demon babe
-Less than Zero
-Until I Die
-Yesterdays Hero
-Flashback
-Bottle cry Salute
-I don´t want you
-The chevy devils
-Slick
-Monsters prefer blondes
DISC 2 (Bonus Material)
Wywiady:
- HEARTBREAK ENGINES
- THE BONES
- THE DISASTERS
- DEMENTED ARE GO
- SKI KING
Teledyski:
- Charley Horse "Bad Ass Dad"
- Born To Los "Sweet Misery"
- Black Halos "Three Sheets To The Wind"
- Total Chaos "Complete Control"
- Total Chaos "What You Gonna Do"
- Total Chaos "Punx Coalition"
- Frontkick "36 Guns"
- Deep Eynde "Devil Child"
- Deep Eynde "Invasion"
- Roger Miret & The Disasters "My Riot"
- Deadline "Long Way Home"
- U.S. Bombs "We Are The Problem"
- Brain Failure Japan Tour Report
- Texas Terri "Oh Yeah"
- Broilers "Ich Sah Kein Licht"
Dodatki:
- Tour Report "BAD BOYS FOR LIFE TOUR 2003"
- Bad Boys Over London "BAD BOYS FOR LIFE TOUR 2006"
- Photo Gallery
- Trailer
Premiera DVD "Bad Boys For Life col.2" 22 stycznia 2006 roku, chwilę później wydawnictwo do kupienia w naszym sklepie.
Więcej szczegółów na stronie ---> PEOPLE LIKE YOU