Trzeci album The Headhunters w katalogu Jimmy Jazz Records
2008-08-31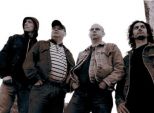 "Żyję by wygrać" to już trzeci album THE HEADHUNTERS, grupy pochodzącej z Oleśnicy i znanej doskonale zwolennikom punkowego brzmienia wymieszanego z ulicznym rockiem. Poza wcześniejszym dorobkiem albumowym warto odnotować także obecność zespołu na składankach dołączonych do pisma Garaż, kompilacjach "Prowadź mnie ulico", "Tribute To Partia" i "Psycho Attack Over Poland" (gdzie zespół trafił z racji swoich stylistycznych ciągot z pierwszego okresu działalności) czy samodzielnych wydawnictw zawierających covery klasyków punk rocka.
Tym razem The Headhunters prezentują 13 nowych kompozycji utrzymanych w znanej konwencji, docenionej przez nabywców wcześniejszych albumów, a zwłaszcza poprzedniej produkcji zatytułowanej "Nie lubię radia", którą nowy materiał przypomina zarówno pod względem repertuarowym jak i brzmieniowym.
Nowa płyta zdaje się potwierdzać, że The Headhunters osiągnęli poziom, na którym rozpoznawani są bez problemu za sprawą własnego, specyficznego brzmienia będącego wypadkową punk rocka i szeroko rozumianych rockowych wpływów.
Poprzedni album wbił się w pamięć słuchaczy zwłaszcza za sprawą tytułowego "Nie lubię radia" czy przebojowej "Drogi 66". Także tym razem nie powinno zabraknąć tych momentów na płycie, które spowodują, że fani grupy zechcą do niej wracać jak najczęściej. Dwa utwory z nowej płyty pojawiły się już na najnowszej części składanki "Prowadź mnie ulico vol.5" (Jimmy Jazz Records), a pierwszy singiel promujący nową płytę wkrótce trafi do rozgłośni radiowych.
Premiera albumu "Żyję by wygrać" 19 września 2008
---> Tracklista