Trochę zmian.... Nowe w ofercie...
2013-01-10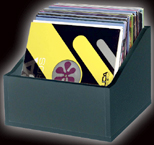 Jak zapewne zauważyliście Nowy Rok rozpoczęliśmy przedłużeniem promocji świątecznej... Dzieki temu każdy kto jeszce chce skorzystać z okazji może urwać 10% ceny zamówienia spełniając warunki podane w poście poniżej.
Zadbaliśmy o to aby w naszym sklepie ciągle coś się działo, zatem systematycznie dorzucamy wam kolejne porcje nowości, które możecie sprawdzać w przeznaczonym do tego ---> dziale naszego sklepu.

Ostatnie uzupełnienia to m.in. powrót wielu tytułow z ---> Randale Records na CD i winylach oraz serii płyt kompaktowych wytwórni ---> One Day Music z klasykami rock'nrolla, amerykańskimi hitami lat 50-tych i 60-tych w tym serii krążków z najlepszymi nagraniami rockabilly wytwórni Sun Records, Imperial, RCA Records, Decca, King, Mercury Records... i wielu innych... 

Rozszerzylismy także ofertę sprzętu, który na codzień może przydać się każdemu fanowi winyli... Zatem bez problemu możecie obecnie sięgać nie tylko po gramofony, ale także funkcjonalne regały na winyle, zestawy do czyszczenia płyt, kufry na winyle czy nawet slipmaty... to oczywiście nie wszystko i ofertę będziemy systematycznie wzbogacać.
Do końca stycznia 2013 także ten sprzęt objęty jest promocją...