Trochę świeżej krwi z Crazy Love...
2010-06-24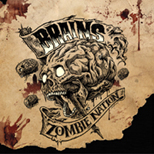 Crazy Love Records to niemiecka wytwórnia, z którą mamy przyjemność współpracować od wielu lat choć przyznać trzeba ze skruchą, że w ostatnim czasie nasza dbałość o uzupełnienia tytułów niemieckiego wydawcy w naszym sklepie nie była godna pochwały. Postanowiliśmy to zmienić zdając sobie sprawę, że może niezbyt liczne ale jednak wściekle oddane piekielnym rytmom grono psycho/rockabilly/horrorpunk/punkabilly... fanów cierpi z powodu naszego lenistwa.

Przyszła zatem pora aby podlać wasze serca odrobiną świeżej krwi z katalogu Crazy Love co niniejszym czynimy oferując Wam porcję mocno rock'n'rollowych brzmień, których słuchanie może nie przysporzy Wam sympatii proboszcza ale przyjemnych doznań z pewnością tak...
KITTY IN A CASKET, FRANTIC FLINTSTONES, THE BRAINS, DEMENTED SCUMCATS, KREWMEN, MAD DOG COLE, ASTRO ZOMBIES, GRAVE STOMPERS, TERMITES, RAMPIRES, FRENZY, DEMENTED ARE GO, TIGHT FITTING PANTS, LONG TALL TEXANS, SILVER SHINE, CALAMITIEZ, STRESSOR i wielu innych wykonawców czeka na wasze skinienie...

Po raz pierwszy w naszym sklepie znalazla się partia winylowych wydawnictw z Crazy Love Records, których ofertę będziemy systematycznie powiekszać....
Jeśli ktoś gustuje w spotkaniach z Zombie, wyciu do księżyca lub podobnych atrakcjach to w towarzystwie krążków z Crazy Love bedzie się czuł jak w...... piekle.
Sprawdź ---> Crazy Love Records