Trochę nowości i uzupełnień...
2011-01-13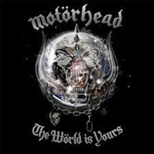 Nowy album MOTORHEAD zatytułowany "The Worls Is Yours", ostatni krażek kanadyjskiej rewelacji THE CREEPSHOW "They All Fall Down" w wersji CD (wczesniej dostepny u nas tylko na winylu), jeden z książkowych hitów ostatnich tygodni - "KSU - Rejestracja buntu" (tym razem różne wydania: w miekkiej i twardej okładce), a także nieobecne ostatnio krążki THE SLACKERS, BAD BRAINS, MOTORHEAD, AGNOSTIC FRONT, TIM'A ARMSTRONGA, U.S. BOMBS.... to tylko niektóre pozycje, które pojawiły sie premierowo lub zostały uzupełnione w naszym sklepie.... Wszytskie łapią się na promocję (czytaj tutaj ---> Promocja), która obowiązuje do końca stycznia i powinna być dodatkowym bodźcem do pochylenia się nad wieloma interesującymi tytułami....
Kolejne uzupełnienia w najbliszych dniach...Lada chaila dosklepu trafi także kilkadziesiąt pozycji, których jeszce u nas nie widzieliście... Zapraszamy do śledzenia sklepowych nowości.
Warto sprawdzić ---> SKLEP.