Trochę nowości: Nowy album P.Paul Fenech'a i The Peacocks...
2008-05-17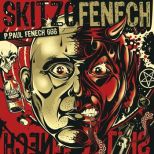 Co sprytniejsi obserwatporzy zmian na naszej stronie zauważyli z pewnością kilka nowych pozycji, które pojawiły się w sklepie. Pośród sporej ilości nowosći polskich, takich jak krążki ALICETEA, PUNKY REGGAE ROCKERS vol.2, KREMLOWSKIE KURANTY, SKUNX, ROZBIESZ SIE czy IVC znajdujemy także najnowsze wydawnictwa z People Like You..
Obok wydanych miesiąc temu nowych albumów DEADLINE "We're Taking Over" i THE MERRY WIDOWS "Devil's Outlaws"dostepne są już majowe premiery w postaci najnowszej płyty lidera THE METEORS. P. PAUL FENECH na swoim nowym krażku zatytułowanym"SkitzoFenech" ujawnia wszytsko to co kochjają fani Meteorów i jego solowej - nie odbiegającej zresztą zbytnio od dokonań zespołu - twórczości. Melodyjny, mroczny, a czasem nieco upiorny psycho/rocknroll poraża z siłą jaka dana jest tylko najlepszym...
Szwajcarzy z grupy PEACOCKS na albumie "Gimme More" prezentują coś na kształt bestki złożonej z utworów niepublikowanych wcześniej i będących pozostałośćią po ostatnich secjach nagraniowych. Dla fanów grupy z pewnością album stanowić będzie niezłą gratkę bo zawartośc przednia i doskonałe uzupełnienie dyskografii jednej z najlepszych europejskich formacji rockabilly...
Sprawdź:
---> ROZBIESZ SIE "1994-2007"
---> IVC "Intro Vagina Clavus"
---> ALICETEA "Muzyka moja broń"
---> PUNKY REGGAE ROCKERS vol.2
---> SKUNX "Ludovico"
---> KREMOLOWSKIE KURANTY "Tam ta da dam"
---> P.PAUL FENECH "SkitzoFenech"
---> THE PEACOCKS "Gimme More"