Toruński ska-band SKAPOINT debiutuje na płycie.
2005-07-01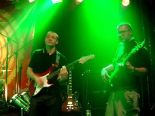 Wszystko wskazuje na to, ze toruński ska-band SKAPOINT wkrótce pojawi się na swoim debiutanckim albumie, który wyda JIMMY JAZZ RECORDS.
Płyta jest juz nagrana i powinna pojawić się jesienią w sklepach, dystrybucjach i naszym sklepie internetowym. Wszystkie utwory stanowiące zawartośc debiutu grupy zaśpiewane są po angielsku co stanowui spory wyłom w dotychczasowym katalogu wytwórni, ale nie jedyny bowiem do nagrania materiału na debiutancki krazek przygotowuje się odmienna stylistycznie formacja THE CUFFS równiez wykonująca swój repertuar po angielsku (o tym wydawnictwie wkrótce poinformujemy szerzej).
SKAPOINT w obecnym składzie gra od 2004 roku. Jednak historia Skapoint sięga lata 1998 roku. Bobas(bas), Grucha(perkusja) i Rysiu(gitara) zaczęli grać razem ska. Po wakacjach za Rysia wszedł na gitarę Wróbel i to była podstawa przyszłego Skapoint. Na pierwszych próbach słychać było głównie covery Specials, Skaface. Do składu dołączył Kowal(wokal) i Mały (trąbka). Miejsce prób należało do Drożdża, grał na gitarze więc dołączył do zespołu. Zaraz po Drożdżu pojawiła się jego siostra-Monia, która wsparła wokalnie Kowala. Pierwszy koncert odbył się w toruńskiej knajpie PILON. Wkrótce sekcja dęta została uzupełniona przez Kasię(sax) i Trębacza(trąbka). Następnie do zespołu dołaczył brat Wróbla Seniora - Młody(klawisze). Tak wyglądał ostateczny skład starej wersji Skapoint. Zespół zagrał kilka koncertów m.in. u boku Alians, Pidżamy Porno, Dr. Green, Anti-Holocaust, Podwórkowych Chuligani.
SKAPOINT wygrał toruński przegląd zespołów Katar. Nagrodą za to była możliwość nagrania dema w studio. Zostało to wykorzystane w wakacje 1999 roku.
Po nagraniu dema grupa zawiesiła działalność z przyczyn nieznanych nikomu. Po 5 latach nastąpiła reaktywacja i odbyła sie pierwsza próba. Ze starego składu pozostał Bobas, Wróbel Stary i Młody, Sambor(trąbka), Mentel(puzon), Dyzio(perkusja), Emila (wokal). Później dołączyła Natalia(saksofon alt.) oraz Piotr(saksofon tenor.).
Łowicki skafest w maju 2004 był niejako ponownycm debiutem grupy.