Tony Montanas i The Kolt oraz urodziny Psychobilly Boo
2006-03-16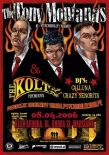 Tony Montanas to zespół psychobilly z Niemiec. Typowe trio z wyraźnym, slapującym kontrabasem, świetną gitarą i szalonym perkusistą. Wyraźne wpływy rockabilly, punkrocka i country wzmocnione zostały domieszką rockowych solówek. Według Racous Records ich brzmienie porównać można by do wczesnego Frenzy czy Long Tall Texans, tyle że jest w tym trochę więcej punka. Jak dotąd wydali jedną epkę "Criminal Energy" oraz album "Destination Hell" w grudniu 2004. Doprawdy fani rock'n'rolla nie powinni przegapić ich występu w Warszawie.

Jako suport wystąpi pułtuski The Kolt – psychobillowo-rockandrollowa formacja złożona z byłych myzyków Robotixa, Komet i Skarpety. Ich ostatni występ na deskach Aurory (w lutym) spotkał się z entuzjastycznym przyjęciem, a chłopcy, swoją pełną energii muzyką, zapewnili wszystkim świetną zabawę.

Przy okazji imprezy swoje pierwsze urodziny obchodzić będzie nasz rodzimy serwis psychobillowy www.psychobilly.boo.pl, tak więc po koncercie, bawić się będzie można przy muzyce serwowanej przez DJa Callunę oraz DJ Crazy Senoritę w psycho - rockandrollowo – garażowo - punkowych klimatach.
Linki do Tony Montanas:

www.tonymontanas.de
www.myspace.com/tonymontanas
Klub Aurora,
Ul. Dobra 33, Warszawa (Powiśle).

Wystąpią:
- Tony Montanas
- The Kolt
- DJe: Crazy Senorita i Calluna
(oraz pierwsze urodziny Psychobilly Boo)
Start: 20:00 - 21:00, Wstęp: 19 pln