The Real McKenzies akustycznie....
2011-07-31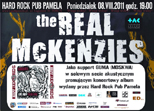 W poniedziałek - 8 sierpnia 2011 - (godz.19. wstęp wolny) w HARD ROCK PUBIE PAMELA wystąpi REAL McKENZIES supportowany solowym, akustycznym setem przez GUMĘ (lidera legendarnej MOSKWY), który w ten sposób będzie promował koncertowy album MOSKWY "LIVE HRPP 20.05.2010" wydany przez HARD ROCK PUB PAMELA. W zależności od pogody koncert odbędzie się w malowniczym ogródku przy klubie lub w środku lokalu...
Grupa REAL McKENZIES zagra ten koncert akustycznie.

REAL McKENZIES - Współcześni celtyccy bardowie znani jako Real McKenzies pochodzą z Vancouver w Kanadzie i są punkowym zespołem głęboko zakorzenionym w szkockiej tradycji. Ich muzykę można określić jako połączenie Sex Pistols i szkockiej legendy folku Robbie Burns'a. Szkockie określenie Ceilidh (wymawiane jako Kee-lee) było jednym z głównych powodów do założenia Real McKenzies. W przypadku McKenzies oznacza ono niesamowite party, które ciągnie się przez kilka dni a nawet tygodni.

Grupa powstała z incjatywy wokalisty i frontmana Paula McKenzie w 1994. W dzieciństwie Paul często był ubierany przez rodziców i dziadków w tradycyjną szkocką spódniczkę i zachęcany do śpiewania oraz tańczenia przy dźwiękach tradycyjnej szkockiej muzyki. Niejako naturalną konsekwencją jego dziecięcych doświadczeń było powołanie do życia Real McKenzies. W Kanadzie podobno mieszka bardzo wielu emigrantów ze Szkocji, którzy woleli północną część Ameryki natomiast Irlandczycy wybierali cieplejsze południe. Ostatnią płytą w bogatej dyskografii zespołu jest album "Off The Leash" nagrany w Motor Studio's w San Francisco. Producentem płyty był sam Fat Mike z NOFX i przy okazji właściciel firmy Fat Wreck Chords. Bez wątpienia jest to najlepiej nagrany i najbardziej urozmaicony stylistycznie album w dorobku grupy. Duża w tym zasługa nowych muzyków: perkusisty Sean'a Sellers'a z Good Riddance, gitarzysty Dave'a Gregg'a z D.O.A. i Little Joe'ego z RKL. Utwór "The Lads Who Fought And Won" został nominowany przez CBC Radio 3 do nagrody "Bucky Award" w kategorii na najbardziej nietypowy instrument pojawiający się w nagraniu.
Chociaż jak wspomina gitarzysta Dirty Kurt: "W studiu staraliśmy się być jak najkrócej, ponieważ nie lubimy być odciągani od imprezowania w pubie". The Real McKenzies to prawdziwi wojownicy na trasie.

Koncertowali już w Północnej Ameryce siedmiokrotnie i często goszczą też w Europie gdzie przyciągają tłumy na swoje koncerty. Mieli już okazję pojawiać się na scenie u boku takich zespołów i artystów jak: Rancid, Shane MacGowan, NOFX, Flogging Molly, The Bay City Rollers, The Briefs i wielu innych. Nieprzerwanie na trasie, zawsze lubią napić się piwa i zagrać energetyczne koncerty. Chcą aby ich celtycki punk rock był znany w każdym miejscu na ziemi. Lata spędzone w zespole i na trasach koncertowych dość oględnie wspomina gitarzysta Dirty Kurt: "Wiele ludzi przewinęło się przez ten zespół, sporo połamanych kości i hektolitry wypitego piwa". Tyle imprez i tras koncertowych wykończyłoby nawet Williama Wallace'a.

The Real McKenzies zawsze występują w tradycyjnych szkockich sukienkach, długich pończochach i przyodziani w skórzane torby w ten sposób podkreślają swój szacunek do tradycji i do swoich przodków. Poza tym ich kobziarz posiada dużych rozmiarów irokeza. O.K. może to nie jest element szkockiego stroju ale ich koncerty są najbardziej zawadiacką imprezą, na której wszyscy doskonale się bawią, zwłaszcza jeśli trzymają w ręku dobry alkohol (preferowany Scotch).