The Pepper Pots rozpalą wasze serca...
2013-03-01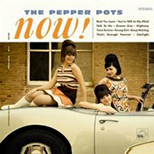 Ska i Northern Soul najwyższej próby. Prawdziwy "vintage vocal style" dla miłośników grup w których, przy mikrofonach, dominują dziewczyny! Płyty katalońskiej formacji trafiły do naszego sklepu w jednej przesyłce z Doktorem RD. Konieczność uzupełnienia kolekcji wydaje się "oczywistą, oczywistością"! Początki Pepper Pots to najwyższych lotów ska, z którego dziewczyny nie myślą rezygnować, jednak soul to jest to co rozgrzewa je obecnie najbardziej.
Jeśli komuś brak dzisiaj na scenie oldschoolowych klimatów Northern Soul, a jednocześnie jego serce bije w rytmach ska to nie powinien się wahać i jak najprędzej zawrzeć bliższa znajomość z jedną z najbardziej wyrazistych i najbardziej intrygujących formacji ostatnich lat…

Na kartach produktów poszczególnych albumów w naszym sklepie do obejrzenia teledyski The Pepper Pots…

Zapraszamy do sklepu…
Do nabycia trzy ostatnie produkcje tego mocno żeńskiego zespołu:

---> CD/LP "Now!" z 2009 roku
---> CD/LP "Train To Your Lover" z 2011
---> CD+DVD.kolaboracja z soulowym chłopakiem Eli "Paperboy" Reed'em pt. "Time And Place".