The Dark Side Of The Blues - Tribute To DANZIG!!!
2010-01-26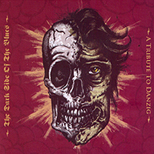 Jest juz dostępne pierwsze polskie, a może i światowe wydawnictwo poświęconego twórczości DANZIG! Płyta CD wydana została przez Black Fox Records w formie digipacku, w ściśle limitowanym, numerowanym nakładzie 666 sztuk i nosi tytuł "The Dark Side Of The Blues - A Tribute To Danzig".
Na wydawnictwie znalazło się 18 kompozycji Mistrza wykonanych przez polskie zespoły: November, 666 Aniołów, The Cuffs, The No-Mads, Dead Infection, Cochise, The Kolt, Abused Majesty, Dumbs, Hellraizer, Vulgar, Hyperial, Effect Murder, Feto In Fetus, Death Denied, Sonneillon, Hugeccm, Angerpath, a autorem grafiki artysta plastyk Rafał Drzycimski znany m.in. także z autorstwa okładek wydawnictw The Kolt i The Cuffs.
Płyta zapewnia fanom 70 minut wspaniałych aranżacji, perfekcyjnego wykonania i super brzmienia i jest juz dostępna w naszym sklepie ---> "Tribute To Danzig"
13 lutego 2010 roku w Białymstoku będzie miała miejsce oficjalna premiera krążka.
Podczas koncertu będzie można nabyć zarówno płyty jak i koszulki w promocyjnych cenach

Wystąpią:
DUMBS
NOVEMBER
THE KOLT
HELLRAIZER

Miejsce: GWINT, Białystok, ul. Zwierzyniecka 10
Start: 19:00