The Bartenders - Poles Are movin'!... Nowa płyta ska-jazzowej orkiestry...
2016-09-15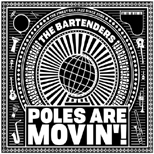 Warszawska ska-orkiestra The Bartenders swój debiut płytowy odnotowała w 2013 roku za sprawą albumu "Szumna Sessions"wydanego przez firmę Fonografika. Album zawierał trzynaście utworów osadzonych w jamajskiej stylistyce: od instrumentalnych ska-jazzowych kompozycji, przez melodyjne piosenki w klimacie ska/rocksteady, po kompozycje inspirowane wczesnym reggae; które wokalnie wspomogli m.in.: Dr. Ring Ding, Earl Jacob, Mamadou Diouf, Duże Pe czy Kuba Wirus.
Po trzech latach od debiutu nowy album zespołu o tytule "Poles Are Movin'!" trafia w ręce fanów za sprawą firmy Zima.

Tym razem na płycie znalazło się 12 kompozycji prezentując materiał bardziej spójny stylistycznie niż miało to miejsce na debiucie. Ska-Jazz jest tym co muzycy lubią i czują najlepiej zatem stają na wyżynach swego muzycznego kunsztu by dostarczyć publiczności najlepszy repertuar na jaki ich stać. Rozbudowana sekcja dęta, polskie i angielskie teksty, rytm, puls, energia i radość grania to wszystko znajdujemy na "Poles Are Movin'!"

Nagrania instrumentów zrealizowano w rozsławionym w złotej erze polskiego rocka studiu Izabelin/Sonus w Łomiankach, natomiast wokale w LocoMotive pod baczeniem Jacka "Dżeksonga" Onaszkiewicza. Ostateczne brzmienie nadali płycie Arek Wielgosik (miks) i Mariusz Dziurawiec (mastering/Studio AsOne).
Za projekt okładki "Poles are movin'!" odpowiada SC SZYMAN aka SZ Pan, artysta grafik od 2002 roku związany z warszawską sceną urban art.

The Bartenders nie tracą czasu. W ostatnim czasie poza nagraniem nowej płyty zanotowali wspólne występy z zespołem Alibabki, któremu towarzyszyli także podczas nagrań nowych wersji starych, legendarnych utworów w stylu ska.

Album "Poles Are Movin'!" trafił właśnie do naszego sklepu, zapraszamy do, składania zamówień.

Zamów CD ---> THE BARTENDERS - Poles Are Movin'!