The Adicts dołączają do People Like You Records.
2008-06-09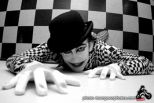 W ostatnim czasie do grona kapel związanych z niemiecką wytwórnią People Like You dołączyła legendarna formacja THE ADICTS, znana także z niedawnych występów w Polsce, jedna z najbardziej aktywnych koncertowo, najbardziej widowiskowych i cenionych kapel punk, powstałych przed laty.
Już wkrótce pierwsze nagrania The Adicts pojawią się na wydawnictwach składankowych People Like You, a fanom pozostaje czekać z nadzieją na rychłe, bardziej obszerne, muzyczne objawienie grupy.
Więcej szczegółów wkrótce...