THRASHER MAGAZINE po 13 latach wraca do wydawania skate'owych składanek.
2005-11-11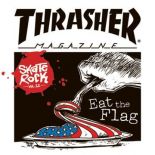 8 listopada wydana została przez amerykański Thrasher Magazine składanka "THRASHER SKATEROCK VOL. 12 - EAT THE FLAG" będąca kontynuacją wydawnictw kasetowych wydawanych przed laty przez ten prestiżowy magazyn poświęcony skateboardingowi.
Jest to pierwsze tego rodzaju wydawnictwo od 13 lat zatem wydawcy poczuli sie zobowiązani i podeszli do tematu bardzo solidnie.
Płyta ukazałą sie jako Dual Disc co oznacza, że z jednej strony płyty znajdujemy nagrania audio, a z drugiej zapis DVD.
Strona audio zawiera niepublikowane wczesńiej i koncertowe nagrania takich grup jak Alkaline Trio, Millencolin, Only Crime, Planes Mistaken For Stars, Turbonegro, The Heartaches, Shed, Gnarkill (Bam Margera), i Die Hunns (Duane Peters).
Tracklista:
1. Alkaline Trio - Preven This Tragedy (Live)
2. Dirth And The Donuts - Killing It
3. Die Hunns - D o You Want The Truth (Featuring Duane Peters)
4. 5 Days Dirty - Still I See
5. Gnarkill - Pantyhose Pornshop
(Featuring Jess and Bam Margera and Brandon Dicamilo)
6. Heartaches - Built For Speed (Featuring Kristian Svitak)
7. Hightower - P.M.O.
8. Leviathan - The Third Blind Wound
9. McRad - Sticker (Featuring Tommy Guerrero and Chuck Treece)
10. Millencolin - Ratboy's Master Plan
11. Only Crime - Another Lie
12. Only Crime - To The Nines
13. Planes Mistaken For Stars - Earning Ire
14. Riverboat Gamblers - Smoking Crack With L.A. Reid
15. [Navarrette Message] - We'll Take A Shed On You!
16. Shed - Tortured Cadavers
(Featuring Darren Navarrette, Aaron Scott and Sam Hitz)
17. Sing the Body Electric - Wet From It (Featuring Ragdoll)
18. S.T.R.E.E.T.S. - Stop The Violence
19. 30 Years War - Divergene
20. U.S.S.R. - Doom Tomb (Live) (Featuring Tony Trujillo)
W części wizualnej znajdujemy m.in. materiały o wzajemnych powiązaniach skateboardingu z rockiem, wywiady z Duane Peters'em, Tony Trujillo i Steve Caballero oraz 3 nagrania Live w wykonaniu TURBONEGRO z roku 2004
Dystrybutorem składanki jest wytwórnia Volcom Entertainment.