THEE SUSPENDERS + NOWY ŚWIAT + DE TAZSOS
2007-01-06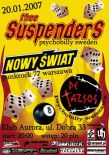 Kolejna edycja Crazy Rockin' – ciężko już dojść która to z rzędu.

Gwiazdą wieczoru będzie tym razem szwedzki THEE SUSPENDERS – zespół będący niejako kontynuacją Slapping Suspenders, który znany był na scenie psychobilly z nieco perwersyjnego poczucia humoru. Polskim fanom znany być może także ich były gitarzysta …. (teraz w Pitbullfarm). Mimo, że oryginalny skład całkowicie przestał istnieć wraz z tragicznym odejściem ostatniego lidera – Michaela a.k.a Psycho-Bun , ich zwariowana muzyka wciąż pozostaje żywa. Zarówno na 7 albumach, kilku kompilacjach, jak i w sercach fanów, przyjaciół i członków ostatniego składu zespołu. To właśnie oni; Eric (kontrabas, chórki) i Robin (bębny, … ) wspólnie z Kennethem (wcześniej pisał utwory dla Slapping Suspenders, obecnie lider, wokalista i gitarzysta) powołali do życia Thee Suspenders. Grają zarówno stare, jak i nowe kawałki w tym samym dobrym stylu.
W Warszawie wystąpią suportowani przez dwa rodzime zespoły, obydwa cieszące się już popularnością w rockandrollowych i punkowych kręgach.

NOWY ŚWIAT to formacja z Żoliborza, przez której skład przewinęło się kilku znanych w warszawskim środowisku muzyków (m.in. Lesław – lider Partii i Komet). Grają przebojowego punk rocka '77, łącząc pełną energii i riffów a'la The Clash, Ramones, Sex Pistols muzykę z tekstami bez zadęcia i mieszania się w politykę, za to świetnie oddającymi klimat miasta. Można posłuchać ich z płyty lub kilku składanek, ale to właśnie na żywo potrafią rozgrzać publiczność i rozkręcić imprezę na dobre.

DE TAZSOS zaś to jedyne w swoim rodzaju warszawskie trio psychobilly. Zespół mimo, że dopiero co nagrał pierwsze swoje demo (5 kawałków), zdołał dorobić już sporej grupy fanów i zaistnieć u boku paru gwiazd (np. Kings Of Nuthin). Ich utwory to niesamowita mieszanka rockandrolla, punkrocka, psychobillowej tematyki i marysińskich klimatów. Nie ma drugiej takiej kapeli w kraju.
Koncert odbędzie się 20.01.2007 na deskach warszawskiej Aurory. Zapraszamy.
Sobota 20.01.2007 – psychobilly i punkrock w Aurorze czyli koncert Thee Suspenders, Nowy Świat i De Tazsos.
- Thee Suspenders (psychobilly Szwecja)
- Nowy Świat (punk '77 Warszawa)
- De Tazsos (psychobilly Warszawa)
Start: 20:00
Wstęp: 20 pln
Linki do zespołów:
http://www.myspace.com/theesuspenders2
http://www.nowyswiat.net/
http://www.myspace.com/tazsos
more info: CrazySenorita@gmx.net