THE SPECIALS - Complete Johnny Peel Sessions na winylu plus nowości z Jump Up! Records.
2016-03-28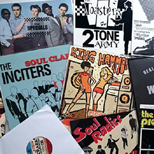 KING HAMMOND, MEPHISKAPHELES, LEO & THE LINE UP, DEAL'S GONE BAD, SOUL RADICS, THE TOASTERS i THE INCITERS to niektórzy z wykonawców reprezentujących amerykańską wytwórnię Jump Up! Records, Których winylowe albumy ponownie lub po raz pierwszy trafiły do naszej oferty.

Szczególnym smakołykiem jest jednak winylowy krążek legendarnych THE SPECIALS, na którym zebrane zostały wszystkie nagrania zespołu zarejestrowane podczas sesji nagraniowych dla John'a Peela, nie mniej legendarnego prezentera radia BBC.
Płyta zawiera 14 nagrań powstałych podczas 4 sesji dla BBC, które odbyły się 29 maja 1979, 23 października 1980, 1 grudnia 1980 oraz 9 grudnia 1983 roku. Pierwsze trzy sesje są efektem pracy The Specials, natomiast podczas ostatniej 3 utwory nagrane zostały pod nazwą The Special AKA.

Pierwsze wydanie zbioru sesji radiowych The Specials dla BBC pojawiło się na winylu już w 1983 roku jako wydawnictwo nieoficjalne firmowane przez fikcyjną wytwórnię o nazwie Not On Label, będącą niczym innym jak etykietą dla wydawania nieoficjalnych wydawnictw z muzyką The Specials.
Płyty z logiem Not On Label pojawiają się co jakiś czas praktycznie do dzisiaj (jedno z ostatnich to numerowana 7" EP-ka "Live At Isle Of Wight Festival 2014") ale ich charakter powoduje, że są drogie i trudne do zdobycia. Tym bardziej cieszy fakt, że dzięki firmie Jump Up! "The Specials Complete Johnny Peel Sessions" jest w zasięgu fanów.
Zamów ---> LP THE SPECIALS - Complete Johnny Peel Sessions