THE METEORS "Hymns For The Hellbound" i CHIP HANNA & THE BERLIN THREE - premiera w kwietniu.
2007-04-04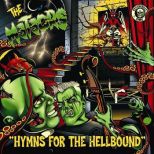 Intrygujaco zapowiadają się najbliższe plany wydawnicze niemieckiej wytwórni People Like You, która w najbliższym czasie zapowiada premiery kilku długo oczekiwanych płyt.
Bezsprzecznie zainteresowanych piekielnym rock'n'rollem o szybsze bicie serca przyprawi wiadomość o nowym albumie królów psychobilly - THE METEORS. Ich najnowszy krążek zatutułowany "Hymns For The Hellbound" pojawi się w Europie 23 kwietnia. W Niemczech do sklepów trafi 3 dni wcześniej, a w Japonii jego premiera będzie miała miejsce 19 maja.
Nikogo z fanów grupy nie trzenba nakłaniać do zainteresowania się ta płytą. Choć jeszce nie przebrzmiały echa wydania ostatniego solowego albumu lidera Meteorów P.Pauil Fenech'a, postanowił on sprawić swoim fanom kolejną ucztę.
Płyta przynosi - jak zwykle - niepowtarzalny klimat, który The Metoers przychodzi bez trudu, a innych wykonawców prowokuje do szukania w ich muzyce inspiracji. Słusznie zresztą czego dowodzi "Hymns For The Hellbound" z 12 mrocznymi opowieściami z piekła rodem (na wersji japońskiej albumu znajdą się dwa dodatkowe tracki). Kolejny dowód wielkości tego legendarnego zespołu już wkrótce do nabycia w naszym sklepie w formacie CD i LP.
Dokładnie tak samo wyglądają terminy premiery albumu formacji CHIP HANNA & THE BERLIN THREE założonej przez pochodzącego z Louisiany Chip'a Hanne, który sam o sobie mówi, że nie ma zespołu, ale nie przeszkadza mu to od czasu do czasu pograć z jakimś bandem. Poza nagraniem pięciu własnych albumów ma za sobą epizodyczną współpracę z U.S. Bombs i One Man Army. Mogłoby to sugerować punkowa stylistykę jego dokonań, lecz choć od punk rocka nie stroni (wystartował z albumem "Punk Goes Country" wydanym przez siebie samego) to jego serce bije w rytm muzyki bliskiej dokonaniom Hanka Williamsa, Johnny Cash'a czy Buddy Holly'ego. Z myślą o nowym albumie muzyk zaprosił do współpracy kolejną grupę muzyków, w którą tworzą: Andy Laaf (drums), Tex Morton (Guitar/Lap Steel) i Valle (Stand-up Bass) - muzycy MAD SIN, niemieckiej gwiazdy Psychobilly/Punk. Stąd też zapewne nazwa towarzyszącej mu formacji. Krążek zatytułowany po prostu "Chip Hanna & The Berlin Three" przynosi 12 utworów nagranych i zmiksowanych w ciągu 24 godzin w jednym z berlińskich studiów nagraniowych i doskonale oddaje ducha muzyki, na inspirację którą powołuje się artysta.
Świetna porcja stylowego rockabilly ocierającego sie momentami o country, w doskonałym wykonaniu.