THE LUNATICS + NER-W + CRIMINAL TANGO +RANA KŁUTA...
2011-06-04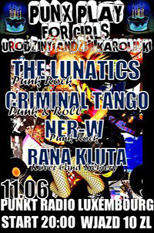 DATA: 11 CZERWCA 2011r. (SOBOTA!)
MIEJSCE:
WARSZAWA, KLUB RADIO LUXEMBOURG UL. GÓRCZEWSKA 67
WJAZD: 10 ZŁ
START: 20:00

- THE LUNATICS (punk rock Warszawa)
Świeżo po wydaniu trzeciej już płyty "Tu i teraz" Mroku i spółka zaprezentują nam dokonania z 6-letniego okresu twórczości Lunatyków. Na koncercie rzecz jasna dostępny będzie najnowszy krązek zespołu.i
www.thelunatics.pl

- NER-W (punk rock Zalesie)
Naughty Poland Tour zakończone, materiał na vinyl nagrany, "Zmiana zasad gry" jeszcze nie ostygła. Petarda koncertowa pod wodzą Kaczora wybuchnie wprost na podniecone piersi dziewcząt.
www.ner-w.pl

- CRIMINAL TANGO (punk'n swing Warszawa)
Dwa piętra pod ziemią u Jezusa w melinie, siedzą z kumplami przy whisky i piwie. Grają w karty i są piękne dziewczyny, w ustach tylko smak ... - czyli warszawscy bikiniarze znów w akcji.
http://www.myspace.com/criminaltango

- RANA KŁUTA (Siekiera coverband)
"Było tylko czterech nas, ona jedna - ciemny las, bez ratunku i bez szans. Między nami dobrze jest! Do ataku! Zabić! Zjeść!" I wszystko jasne.
http://www.youtube.com/watch?v=4nunkRz8mL0

After Party poprowadzą: Spilu, Mikołaj, Janek- czyli popularne sound systemy BANDA DROMBO oraz MOVA TRAVA.
Zabawią Was popularnymi hitami wszystkich dekad, zaczynając od lat '60! Będzie dużo kiczu, rock'n'rolla, a zabawa będzie aż do następnego wieczora!!!