THE KUFLERS - Kolejny punkowy debiut...
2007-03-07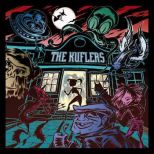 Ukazał się debiutancki materiał pochodzącej z Warszawy i okolic grupy The Kuflers. W zespole oprócz debiutantów udzielają się również muzycy z takich formacji jak: The Kolt, Atak Serca, Deuter czy Brygada Kryzys. Na debiutanckiej płycie THE KUFLERS znalazło się 12 utworów utrzymanych w stylu rock'n'roll punk z żeńskim wokalem.
Album wydany został w wersji Digi pack z książeczką opatrzoną rysunkami Michała Arkusińskiego i jest juz dostępny w naszym sklepie.
Zainteresowanych bliższym poznaniem zespołu odsyłamy do nowego numeru Garażu w którym znależć można wywiad z muzykami oraz utwory promo na płycie dołączonej do pisma.
---> GARAŻ # 25
---> CD THE KUFLERS