THE KOLT
2010-06-09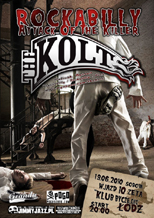 19.06. 2010 w łodzkim klubie BYCZE OKO wystąpi pułtuski THE KOLT, który w tym roku obchodzi swoje 5-lecie...
Start: 20.00
Wstęp: 10,- zł

THE KOLT - to nazwa znana polskim miłośnikom grania spod znaku psycho/rockabilly. Zespół powstał w Pułusku w 2004 roku, a w jego skład wchodzą muzycy udzielający się w takich formacjach jak KOMETY, ROBOTIX, SKARPETA, THE CUFFS, KUFLERS, THE HASTALAVISTAS i 22 PM.
Po wydaniu dwóch albumów - "Neony kina narew" (Jimmy Jazz Records 2005), "Odsłona 2" (Jimmy Jazz Records 2007) i kilku składanek wydanych przez wytwórnię zespół powraca w nowym składzie oraz z odświeżonym, bardziej stylowym brzmieniem. Nowy album The Kolt - "Curse of number 3" zaskoczy tych, którzy spodziewali się kontynuacji tego, co kapela przedstawiała dotychczas - większość numerów została zaśpiewana po angielsku, a muzycznie zespół zbliżył się do klasycznego brzmienia psychobilly, nie popadając przy tym w schematy.

Nowy repertuar spotkał się z bardzo dobrym przyjęciem ze strony publiczności podczas koncertów m.in. z Long Tall Texans i Death Valley Surfers, a słuchając "Curse Of Number Three" można się było przekonać jak zespół wypadł w studiu.
Premiera albumu miała miejsce 25 kwietnia 2009 roku.
12 stycznia 2010 - The Kolt w odświeżonym składzie wydał EP-kę "Party Time Favourites EP".

Rok 2010 - to 5 lecie bandu i z tej okazji 18.06.2010 odbędzie się jubel czerwcowy w doborowym towarzystwie w warszawskim klubie NO MERCY. Dzień później odbędzie się jubel łódzki w klubie Bycze Oko... godz. 20.00. Serdecznie zapraszamy!

W wakacje THE KOLT zaczyna nagrania swojej nowej płyty, a kilka nowych numerów będzie można już usłyszeć na urodzinowych gigach.
www.myspace.com/thekolt

13 lutego 2010 roku nakładem białostockiego Black Fox Records ukazała się składanka w hołdzie Danzig. Jej tytul to "The Dark Side Of The Blues - A Tribute To Danzig". Oprócz The Kolt i ich wersji "I'm The One" znajdują się tam covery innych zespołów z całej Polski.