THE HORMONAS + DE TAZSOS
2006-04-28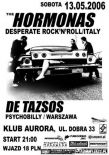 13.05 szykuje się kolejna dawka wariackiego rockandrolla w warszawskiej Aurorze.
Koncert rozpoczną DE TAZSOS - warszawskie trio psychobilly z Saskiej Kępy i Marysina. Zespół tworzą Krzysztof Zedowski – wokal i gitara basowa, Pe Paweł Hozewicz na gitarze oraz Rafał Pomysł na perkusji. Utwór "Ludzie Koty" znaleźć można na składance "Psychobilly over Poland" a na jesieni grupa zamierza zarejestrować kilka kawałków w studiu. Zespół występował ostatnio w grudniu na scenie Ucha w Gdyni razem z amerykańskim Kings of Nuthin' oraz w styczniu w warszawskiej Aurorze z berlińskim Kathy X. Od tego czasu publiczność zapewne zdążyła się już stęsknić za ich występami.
Gwiazdą wieczoru będzie tym razem THE HORMONAS - zespół, który przyjedzie do nas z Italii, a konkretnie z Wenecji. Sami określają swoją muzykę jako sick&desperate rock'n'roll. Słychać w niej garage, psycho-trashabilly, country-blues'a, punkrocka, a także ich miłość do the Cramps, Misfits, Gun Club, Jack O Fire, Pussy Galore oraz całego nurtu desperate rockandrolla.
Grupa powstała w 1999 roku i od tego czasu zagrała koło 200 koncertów - od weneckich plaż po londyńskie kluby. Występowali między innymi z takimi gwiazdami sceny jak Frantic Flintstones, Nekromantix, Peacocks, The Monsters, Tav Falco' s Panther Burns, The Rippers, Demolition Doll Rods, czy Tim Kerr. W skład grupy wchodzą Reverend Sam - wokal, Massi na kontrabasie, Michela na perkusji i Pido na gitarze.
Na żywo wypadają bardzo energetycznie a każdy koncert grają tak, jakby był ostatnim w życiu. Często włączają w swój show publiczność, która wdziera się na scenę a nawet gra na instrumentach.
Zapowiada się dobry koncert i wariacka noc w szalonym towarzystwie, a po koncercie rockandroll, psychobilly, punk i garaż z płyt.
DYSKOGRAFIA HORMONAS:
2003 - "Teenage Pussy" - 7" EP 45rpm - Shake Your Ass Records
2004 - "Hormonas VS Kim's Teddy Bears" - 10" split 33rpm - Nicotine Records, wersja CD - Billy's Bones Records
2005 - "DeadLoveBlues" CD - Billy's Bones Records
2006 - wkrótce 10" EP 33rpm -Why did you leave me, Baby? - Billy's Bones Records
SKŁADANKI:
2003 - "Fuck Yeah" - "King Congo" - 8 Records
2004 - "Instro-Mental Mania" - "Jungle Violence" i "Wild Zebras" - Alphamonic Tapes
13.05.2006 Klub Aurora
Ul. Dobra 33
Warszawa

- De Tazsos (psychobilly, Polska)
- The Hormonas (desperate r'n'r, Włochy)
- DJs
Start: 20:00
Bilety: 18 pln

Linki do HORMONAS:

www.myspace.com/hormonas
www.thehormonas.com/
More info: CrazySenorita@gmx.net