THE HEADHUNTERS - Nowy album!
2013-08-23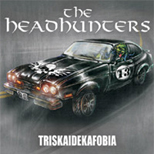 Najnowszy album oleśnickich Łowców Głów nosi tytuł "Triskaidekafobia". Po płycie z coverami oraz winylowym podsumowaniu 10 lat dzialalności The Headhunters nagrali kolejny, premierowy krażek, na którym poznajemy kapelę z nieco ostrzejszej strony zarówno muzycznej jak i tekstowej.. Oczywiście w niczym nie wpływa to na charakterystyczny styl grupy będący polaczeniem punk rocka z ulicznym rock'n'rollem, niemniej przenosi nas w kolejne, muzyczne rejony nowe dla fanów i samych muzyków.
Fani zespołu nie będą zawiedzeni, a fani punk rocka powinni pochylić sie nad tym albumem bo warto zaznajomić się z nim bliżej... Premiera płyty 10 września ale juz dzisiaj można ją zamawiać w naszym sklepie...

Zamów ---> CD THE HEADHUNTERS - "Triskaidekafobia"




                                                   *************************

Zespół The Headhunters jest kontynuacją istniejącego wcześniej punk rockowego zespołu Dziki. Dziki sformowały się pod koniec 1991 roku w Oleśnicy i po nagraniu dwóch kaset demo w 1994 roku przestały istnieć. Zespół reaktywował się w 1999 roku, a w rok później wraz ze zmianą gitarzysty nastąpiła zmiana nazwy.
Zatem rok 2000 to narodziny The Headhunters. W pierwszym składzie (Toman - wokal, bas; Iwan - gitara; Rufio – bębny) zespół zarejestrował swoją pierwszą kaseta demo. Pod koniec 2000 roku dołączył Smoleń (druga gitara). W lutym 2001 roku została zarejestrowana i wydana własnym sumptem koncertowa płyta "Live dla idei".
W grudniu 2001 po kolejnych zmianach w składzie Headhunters po raz pierwszy weszli do studia, a w kwietniu 2002 ukazała się ich pierwsza studyjna płyta. Debiut nosił tytuł "Awantura" i także został wydany własnym sumptem.
W styczniu 2005 roku kapela rozpoczęła pracę nad kolejnym materiałem studyjnym czego efektem jest album "Łowcy" wydany przez wytwórnię Jimmy Jazz Records "Łowcy" to de facto pierwszy oficjalny materiał oleśnickich Łowców Głów, z którym zespół miał szansę zaistnieć szerzej choć grupa powinna być już znana sporemu gronu słuchaczy za sprawą obecnego niegdyś w wielu rozgłośniach utworu "Jestem jaki jestem" oraz udziału w składance "Psycho Attack Over Poland" (Jimmy Jazz Records). Wkrótce Headhunters zagościli na kolejnym wydawnictwie składankowym, prezentując swoja wersję utworu "Chciałbym umrzeć jak James Dean" na albumie "Tribute To Partia".
Repertuar zespołu to przemyślany uliczny rock podlany punkiem i Oi! Surowy ale melodyjny co powoduje, że wiele utworów to potencjalne przeboje dla fanów ostrego grania.

Od chwili debiutu The Headhunters, pod szyldem Jimmy Jazz Records, wydali autorskie albumy: "Łowcy", "Nie lubię radia", "Żyję by wygrać", "Wczesne lata: 2000-2002" i "Dekada"... "Triskaidekafobia" jest najnowszym efektem wspołpracy zespołu i wytwórni.