THE GENERATORS - Between The Devil And The Deep Blue See
2010-05-19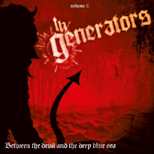 Najnowszy, siódmy album amerykańskiej formacji THE GENERATORS wychodził nieco "na raty" ale wreszcie udało mu się dotrzeć do naszego sklepu... Płyta ta z pewnością sprawi frajdę zarówno fanom zespołu jak i tym, którzy przychylnie spogladają na poczynania grup zapatrzonych w pewnym stopniu w dokonania Social Distortion, z czym Generators się nie kryją. Dodatkowego smaczku temu stwierdzeniu dodaje obecność w zespole perkusisty Derek'a O'Briena znanego fanom punk rocka z grupy..... Social Distortion.
Jakby tego było mało najnowszy krążek The Generators nosi tytuł "Between The Devil And The Deep Blue See" i może nie ma to wiekszego znaczenia ale dziwnie kojarzy się z tytułem albumu "Somewhere Between Heaven and Hell" z dyskografi.... no juz wiecie kogo :-).

Tak czy siak płyta jest i bez przesady można nazwać ją jedną z najlepszych w dokonaniach zespołu. Za jej wydanie w Europie odpowiedzialne są dwie niemieckie firmy. Concrete Jungle wydała album we wrzesniu ub. roku, a People Like You powtórzyła ten zabieg kilka tygodni temu.

Zapraszamy do naszego sklepu gdze album ---> THE GENERATORS - "Between The Devil And The Deep Blue See" w formacie CD czeka na wszystkich zainteresowanych.