THE CUFFS nadchodzi.
2005-12-21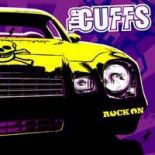 Zakończona juz została praca nad debiutanckim albumem THE CUFFS, rock'n'rollowego projektu rodem z Kujaw, Warmii i Mazowsza.
Swoje działania muzyczne zespół określa jako "PUNK'N'ROLL", co stanowi energetyczną wiązankę punka, hc i rock'n'rolla.
Do głównych inspiracji muzyków należą grupy MOTORHEAD, SOCIAL DISTORTION, TURBONEGRO, MISFITS oraz RAMONES. Coverów tych kapel możecie się spodziewać na koncertach The Cuffs.
(najblizszy 14 stycznia 2006 w ostródzkim pubie SMOK).

Muzycy grupy związani są (lub byli) z takimi kapelami jak Schizma, 666Aniołów, The Kolt, Robotix, In the name of God i Tuesday.
Autorem okładki debiutanckiej płyty The Cuffs jest Rafał Drzycimski, znany w całym kraju artysta grafik, spod ręki którego wyszły takze m.in. okładki albumów Upside Down, The Kolt i 666 Aniołów.
THE CUFFS występuje w składzie:
MAX SCHIZ CUFF - wokal
MŁODY JOHNNY SOLO CUFF – gitara
PONCZO CUFF - gitara
HUBBY AINSZTAIN CUFF - bas
ARCZIBALD CUFF - bębny
Wkrótce na naszej stronie promocyjne pliki MP3, a póki co zainteresowanych grupą odsyłamy na stronę zespolu (---> THE CUFFS) gdzie więcej szczegółów o jego działalności, do ściągniecia troche muzyki oraz sample z fragmentami debiutanckiej płyty.