THE CLASH!!! Ostatnia załoga na mieście - Pierwsza polska biografia ikony punk rocka juz do zamówenia....!!!
2011-11-18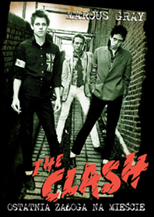 Tytuł: The Clash - Ostatnia załoga na mieście
Objętość: 720 stron + 16 stron wkładki ze zdjęciami
Format: 17 cm x 24 cm
Oprawa: twarda

**********

Autorem biografii zatytułowanej "The Clash – Ostatnia załoga na mieście" jest Marcus Gray, który na ponad 720 stronach książki (uzupełnionej 16 stronicową wkładką ze zdjęciami) zawarł setki historii i szczegółów kariery jednej z najbardziej legendarnych grup XX wieku i jej członków. Muzyka, polityka, początki punkowej rebelii w Anglii, tło społeczne, zadymy, wybryki, wzloty i upadki…. To lepsze niż niejedna powieść…

"Dorastałem w bardzo dobrych czasach, by stać się buntownikiem – wyznał w jednej ze scen filmu "Niepisana Przyszłość" Joe Strummer (rocznik 1952), jeden z liderów The Clash - Rewolucja obyczajowa końca lat 60-tych, rozruchy w Paryżu i innych miastach Europy w 1968 roku, czy wreszcie muzyka – np. rewelacyjny "Kick Out The Jams" zespołu MC5"

Najwyraźniej podobny fart przytrafił się także Marcus'owi Gray'owi (rocznik 1960) autorowi "Ostatniej załogi na mieście". Był nastolatkiem, gdy w jego ojczyźnie punk rock stawał się rzeczywistością. Dorastając w małej miejscowości w północnym Yorkshire, z wypiekami na twarzy słuchał pierwszych singli Sex Pistols czy Eddie and the Hot Rods, a po przejechaniu kilkudziesięciu mil do Newcastle wielokrotnie mógł zobaczyć np. Stranglers, The Jam, Buzzcocks, The Adverts czy wreszcie zaliczyć kilka koncertów The Clash. Tak też się zaczęło uczucie, które po kilkudziesięciu latach zaowocowało bardzo szczegółowym opracowaniem. Jego książka miała już kilka uzupełnianych wydań w Wielkiej Brytanii, pierwsze ukazało się w połowie lat 90-tych.

Gray jako pisarz i dziennikarz miał okazję otrzeć się o środowisko związane z zespołem, ale nie był zbyt blisko z The Clash. Jednak miłość fana i mrówcza praca dały znakomity efekt. Opisał losy muzyków w czasach zanim powstali The Clash i dzieje samego zespołu od prób w londyńskich piwnicach, po pełne stadiony na trasach koncertowych w USA. Część książki wypełnia także historia poświęcona Joe Strummer'owi, jego życiu "na pustkowiu" po rozpadzie The Clash, triumfalnemu powrotowi z Mescaleros, aż po tragiczną śmierć. Niektórzy czytelnicy oryginału "Last Gang in Town: The Story and the Myth of the Clash" zarzucali autorowi, że ta historia jest zbyt szczegółowo. Jednak dla prawdziwego fana taka precyzja może być tylko zaletą, a nie wadą!! Potwierdzają to m.in. opinie prasy fachowej.

"Gray po mistrzowsku dekonstruuje mitologię tworzoną przez samych członków The Clash. Przepełniona anegdotami... Fascynująca, mocna lektura". (**** Q)

"Drobiazgowe badania i obszerne wywiady czynią niniejszą książkę jedyną,
która zbliża się do prawdy ukrytej za mitologią, jaka urosła wokół The Clash". (Mojo)

"Przy okazji opowiadania dziejów The Clash, Gray przybliża historię pojawienia się punka jako formy muzycznej, systematyzując ważne wydarzenia i odtwarzając obraz sceny muzyki punkowej z tamtych czasów.
Oczywistym jest, że niniejsza książka stanowi pozycję obowiązkową dla fanów zespołu The Clash. Jest to jednak także wartościowy dokument dla każdego zainteresowanego erą punka, jak również obrazem potęgi popkultury i jej roli, jaką odgrywa w kreowaniu współczesnych postaci bohaterów i tworzeniu ich legend". (Billboard)

"Jeśli jesteś fanem muzyki albo przyszłym Malcolmem McLarenem lub Bernie Rhodesem, lub po prostu kimś, kto słyszał o The Clash, ale niewiele, bądź zgoła nic nie wiesz o tym ile tak naprawdę znaczą, wtedy koniecznie musisz przeczytać tę książkę". (Record Collector)

"Jest to fascynująca, a zarazem zabawna książka, spełniająca tradycyjne wymagania stawiane dobrym książkom poświęconym muzyce rockowej, w końcu Gray jest fanem The Clash, a jego książka sprawi, że zechcesz przesłuchać ich płyty". (Times Literary Supplement)

"Rzetelnie przygotowana, książka ta jest, nawet literacko, ambitnym dziełem". (Washington Post)

Prace nad polskim wydaniem książki trwały bardzo długo ale chyba nikogo nie trzeba przekonywać, że warto było czekać.

720 stron + 16-stronicowa wkładka ze zdjęciami, twarda oprawa i … wszystko czego nigdy nie dowiedzielibyście się o THE CLASH gdyby nie "Ostatnia załoga na mieśćie"!!! Premiera książki przewidziana jest na 30 listopada ale już dzisiaj możesz mieć pewność, że jeden z egzemplarzy zaraz po premierze trafi do Ciebie…

ZAMÓW!!!  ---> THE CLASH – Ostatnia załoga na mieście.