THE ANALOGS w szczecińskim SOS nr 2.
2010-09-20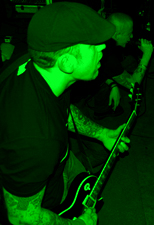 W dniu 22.09.2010 roku w Młodzieżowym Ośrodku Socjoterapii nr 2 w Szczecinie przy ulicy Jagiellońskiej 58 odbędzie się koncert zespołów:
- BERI BERI
- THE ANALOGS
oraz hip-hopowego składu P.M.M..
Adresatem koncertu jest młodzież przebywająca oraz ucząca się w tym ośrodku, a organizatorami imprezy są: Klub KONTRASTY, kadra pedagogiczna placówki, oraz Paweł Czekała. Wsparcie i patronat nad tą imprezą objął popularny szczeciński sklep UNDERGROUND.
Chociaż impreza ma charakter zamknięty, to istnieje możliwość wpisania pewnej ilości osób na listę gości.
Chętnych do udziału prosimy o kontakt mailowy na adres analogs@op.pl
Start imprezy godzina 15.30. Zapraszamy!!!