THE ANALOGS obchodzą 13-lecie...
2008-03-09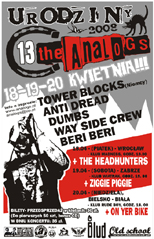 Zawiązani w 1995 roku THE ANALOGS to najlepsza, najbardziej aktywna i najbardziej znana w kraju i za granicą formacja od początku hołdująca staremu, ulicznemu punk rockowi. W ciągu 13 lat istnienia zespół, mimo zmian składu, okrzepł muzycznie, a jego popularność zatacza coraz szersze kręgi. 9 wydanych dotychczas albumów za każdym razem potwierdzało klasę grupy, której występy nieprzerwanie ściągają do klubów rzesze wiernych fanów. Niemal nieobecni w krajowych rozgłośniach radiowych i telewizji, doskonale znani są publiczności undergroundowej w Polsce, a także w Angli, Niemczech, Włoszech, Austrii, Szwajcarii, Czechach i innych krajach, gdzie często koncertują.
Stało się to juz nową świecką tradycja, że Analogs co roku obchodzi hucznie swoje kolejne urodziny. Do tej pory zagrali kilkaset koncertów zapewniając odbiorcom mnóstwo punkowej energii.

W tym roku zespół - świętując swoje urodziny - odwiedzi trzy miasta: Wrocław, Zabrze i Bielsko-Białą. Każde urodziny powinny byc wyjątkowe, z tej okazji zespół przygotował sporo atrakcji w postaci bonusów dokładanych do pierwszych 50 biletów zakupionych w przedsprzedaży, podczas koncertów również mnóstwo prezentów dla wiernych fanów. Na jubileuszowej trasie Analogsom towarzyszyć będa zespoły HEADHUNTERS, DUMBS, ANTI DREAD, BERI BERI, ON YER BIKE.
DATY KONCERTÓW:
18.04.2008 - WROCŁĄW - Klub Madness, godz. 19.00
19.04.2008 - ZABRZE - Klub Wiatrak, godz. 19.00
20.04.2008 - BIELSKO-BIAŁA - Klub Rude Boy, godz. 18.00
Informacje o zespołach:
ANTI DREAD
Szczecińska grupa hołdująca mocno rock'n'rollowej odmianie punk rocka 77 powstała w 2003 roku jako muzyczny kaprys i odskocznia stylistyczna części myzyków streetpunkowej formacji THE ANALOGS. Jednym z zajęć (poza graniem), któremu z lubośią oddają się muzycy są ciągłe zmiany składu (przez zespół przewinelo sie wielu muzyków szczecińskich grup punkowych), w rezultacie których dzisiaj ANTI DREAD żyje własnym życiem, dość odległym od działań macierzystej formacji swoich załozycieli.
Od momentu powstania ANTI DREAD zaprezentował się się fanom trzema świetnie przyjętymi, pełnymi albumami wydanymi przez wytwórnię Jimmy Jazz Records - "14 sexistowskich piosenek" (2003), "Jeszce więcej seksistowskich piosenek" (2005), "Wszyscy jesteśmy lesbijkami" (2007) - , które poza solidną porcją punkowego rock'n'rolla pokazały dystans z jakim w swoich tekstach grupa podchodzi do otaczającej nas rzeczywistości, w której niepoślednią rolę odgrywają kwestie damsko-meskie.
Zespół pojawił się na kilkunastu składankach i dziesiątkach koncertów w kraju i zagranicą, zawsze dostarczając fanom dokładnie tego czego oczekują - porywającej muzyki i dobrej zabawy.
DUMBS
Historia DUMBS sięga 1995 r. Zespół powstał w wyniku totalnego uwielbienia jego członków dla legendarnej grupy THE RAMONES. DUMBS pierwotnie skupiali się na dośc wiernym odgrywaniu repertuaru swoich idoli, aby z czasem przejśc na pozycje bardziej tworcze, tworząc własny program na bazie ramonesowskiej stylistyki.
Po drobnych zmianach składu i wydaniu własnym sumptem kilku wydawnictw demo, trio DUMBS przekroczyło progi studia i w roku 2007 zarejestrowało swój pierwszy, pełnowymiarowy album zatytułowany "Worst Nightmares". Płyta pojawiła się w sklepach za sprawą wytwórni Jimmy Jazz Records prezentując ultra-melodyjny punk/rock'n'rol osadzony głęboko w stylistyce pierwszych nagrań Ramones, a zespół zwiększył swoją aktywność koncertową pojawiając się ze swoim Ramones-punkiem w wielu klubach.
HEADHUNTERS
Zespół The Headhunters jest kontynuacją istniejącego wcześniej punk rockowego zespołu Dziki. Dziki sformowały się pod koniec 1991 roku w Oleśnicy i po nagraniu dwóch kaset demo w 1994 roku przestały istnieć. Zespół reaktywował się w 1999 roku, a w rok później wraz ze zmianą gitarzysty nastąpiła zmiana nazwy.
Zatem rok 2000 to narodziny The Headhunters. W pierwszym składzie zespół zarejestrował swoją pierwszą kaseta demo. W lutym 2001 roku została zarejestrowana i wydana własnym sumptem koncertowa płyta "Live dla idei".
W grudniu 2001 Headhunters po raz pierwszy weszli do studia, a w kwietniu 2002 ukazała się ich pierwsza studyjna płyta. Debiut nosił tytuł "Awantura" i także został wydany własnym sumptem.
W styczniu 2005 roku kapela rozpoczęła pracę nad kolejnym materiałem studyjnym czego efektem był album "Łowcy" wydany wspólnie przez zespół i wytwórnię Jimmy Jazz Records.
Grupa powinna być już znana sporemu gronu słuchaczy za sprawą obecnego niegdyś w wielu rozgłośniach utworu "Jestem jaki jestem" oraz udziału w składance "Psycho Attack Over Poland" (Jimmy Jazz Records) i prezentując swoja wersję utworu "Chaiłbym umrzeć jak James Dean" na albumie "Tribute To Partia".
Repertuar zespołu to przemyślany uliczny rock podlany punkiem i Oi! Surowy ale melodyjny co powoduje, że wiele utworów to potencjalne przeboje dla fanów ostrego grania. Ze względu na swoją różnorodność nowa płyta pt. "Nie lubię radia" z pewnością znajdzie odbiorców zarówno wśród fanów punk rocka jak i melodyjnego rockowego grania.
BERI BERI
To jedyny, w pełni żeński, zespół punk rockowy w Polsce. Powstał trzy lata temu, stylistycznie placując się ze swoją muzyką gdzieś między Joan Jett, a Distillers.... Liczne koncerty u boku doświadczonych grup zaowocowały doświadczeniem i pewnośćią, jakie dzisiaj dziewczyny prezentują podczas swoich energetycznych występów.
W ubiegłym roku BERI BERI zagrały kilkanaście koncertów w Polsce, a wiosną odbyły dwutygodniową trasę po Niemeczech. Do chwili obecnej grupa zarejestrowała i opublikowała kilka utworów, które wydane zostały na składankach "Prowadź mnie ulico", "Street Rockers" oraz płycie dołączonej do pisma "Garaż".
Dziewczyny koncertują i wywołują żywsze bicie serca, zwłaszcza męskiej części widowni, szlifując formę przed planowanym na ten rok nagraniem swojego debiutanckiego albumu.