THE ANALOGS na składaku w Rosji.
2007-03-08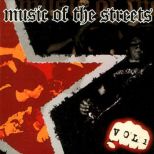 Rosyjska wytwórnia Space Rebel Records z St-Petersburga wydała składankę pod tytułem "MUSC FROM THE STREET", na którą poza nagraniami wielu punkowych zespołów z Rosji, trafiły także dokonania wykonawców z innych krajów - w tym także naszych THE ANALOGS, którzy znaleźli się na wspomnianej płycie z utworem "Zjednoczeni" pochodzącycm z najnowszego albumu "Poza Prawem".
Swoje nagrania na wspomnianym wydawnictwie umieścili także szwedzcy BLISTERHEAD, Amerykanie z ANGEL CITY OUTCASTS, Włosi z LOS FASTIDIOS i Holenderska grupa BEANS, której pełny album wspomniana wytwórnia wypuściła w Rosji nieco wcześniej.
Składak zapewne najbardziej zainteresuje wszystkich tych, których pociąga punk rock w wydaniu naszych wschodnich sąsiadów. Fani The Analogs moga potraktować go jako ciekawostkę wydawniczą, a miłośnicy melodyjnego punk rocka, lekko podlanego szorstkim ska w stylu Rancid, zapewne zechcą sięgnąć po album wspomnianych BEANS pt "Sundown".
Obie płyty są już do nabycia w naszym sklepie. Wkrótce trackilsty uzupełnione zostaną samplami utworów wypeniających albumy.
---> CD SKŁADANKA "Music From The Street"
--- > CD BEANS "Sundown"