THE ANALOGS - Taniec cieni... Ruszają zamówienia.
2010-02-06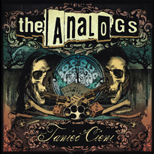 "Taniec cieni" to długo oczekiwany album THE ANALOGS, którzy po świetnie przyjętym, poprzednim krążku "Miejskie opowieści" przez ponad rok koncertowali ogrywając nowy materiał, aby pod koniec 2009 roku w szczecińskim studio Rapido zarejestrować 13 nowych, autorskich utworów.

"Taniec cieni" bez najmniejszych wątpliwości umacnia The Analogs na pozycji najlepszej, krajowej kapeli streetpunk, której popularnośc już dawno przekroczyła granice undergroundu.
Ponad 80 koncertów, które zespół zagrał od czasu wydania poprzedniego albumu dowodzi pozycji na jaką The Analogs pracowali latami dając fanom 10 albumów i odwiedzając niemal wszystkie miejsca w kraju gdzie istniała możliwość pokazania się na żywo... Grupa ma na swoim koncie także wiele występów poza Polską, tylko w ciągu minionego roku odwiedzając z koncertami Anglię, Szkocję, Niemcy, Szwecję, Słowenię i Rosję.

"Taniec cieni" to kontynuacja tego co fani znają z poprzednich albumów... ostre, ultra-melodyjne kompozycje, których odbiór podkreślają chatrakterystyczne teksty lidera grupy Pawła Czekały.
Uliczna retoryka nadal dominuje w przekazie grupy choć nie sposób oprzeć się wrażeniu, że tym razem więcej w tekstach The Analogs także zwykłych życiowych obserwacji i osobistych przemyśleń. Fani krótkich, treściwych opowieści też znajdą tu to co lubią najbardziej.

Nagrywając nową płytę, zespół intensywniej niż na "Miejskich opowieściach" zaakcentował to z czym kojarzony jest na wczesnych albumach... melodyjne solówki i chórki wróciły do łask, ale nie zabrakło też kilku nowych pomysłów.
Podczas sesji nagraniowej w studiu wsparciem muzycznym służyli zaproszeni goście, którymi tym razem byli Maciek Kiersznicki (gitarzysta grup Road Trip's over i Anti-Dread), Hałabała (wokalista Anti-Dread) oraz Marcin Łuczyński (klawiszowiec legendarnej formacji ska Dr. Cycos, obecnie w Indios Bravos).
RUSZYŁY ZAMÓWIENIA
Ruszamy z zamówieniami przedpremierowymi na nową płytę THE ANALOGS "Taniec Cieni". Krążek wydany będzie w formacie CD i LP. Oficjalna premiera handlowa kompaktu będzie miała miejsce 13 lutego. Płyta CD wydana została w formie klasycznego boksu z książeczką. Cena krążka to 30,- zł.

Pemiera wersji winylowej kilka dni po premierze CD, zaraz po tym jak krążek dotrze z tłoczni zagranicą.

Wersja winylowa albumu THE ANALOGS pt."Taniec cieni" wydana została w limitowanej ilości 600 egzemplarzy na dwóch kolorach winylu - czarnym i zielonym (350 kopii na winylu czarnym i 250 na zielonym). Okładka winyla ma nieco inny odcień kolorystyczny niż jej odpowiednik z CD. Każda płyta posiada swój indywidualny numer, a egzemplarze różniące się kolorem winylu numerowane są w przypadkowej kolejności bez zachowania jakiejkolwiek regularności.
Album posiada rozkładaną wkładkę, która po złożeniu ma format zbliżony do formatu okładki płyty. Dwustronnie drukowana, kolorowa wkładka zawiera zdjęcia muzyków w stylu zbliżonym do plakatu oraz teksty wszystkich utworów z płyty.
Egzamplarze na kolorowym winylu posiadają na okładce specjalne nalepki informujące o limitowanej ilości kolorowych winyli.

Album "Taniec cieni" w wersji winylowej dostępny jest tylko na stronie wydawcy ---> WWW.JIMMYJAZZ.PL

Każdy z winylowych egzemplarzy płyty opisany jest za pomocą posiadanego numeru jak i koloru winyla.
Wersje kolorystyczne różnią się ceną:
- Płyta na czarnym winylu: 39 zł.
- Płyta na zielonym winylu: 45 zł.

Egzemplarze płyt z numerami powyżej 501 do 600 figurują w sklepie jako zbiorcze pozycje różniące się kolorami i jeśli dla kogoś numer płyty nie ma znaczenia to polecamy skorzystanie z tej opcji przy zamówieniu.

Egzemplarze płyt z numerami w przedziale od 1 do 500 (bez tych, do dyspozycji wydawcy i zespołu) dostępne są w sklepie jako pojedyncze pozycje. Znaczy to tyle, że jeśli ktoś wrzuci do swojego koszyka taki egzemplarz to nikt inny już go nie zamówi bo krążek znika ze sklepu, a zamówiony numer ma już swojego właściciela.
Krótko mówiąc nie decyduje kolejnośc zamówień i kolejność w jakiej zdejmujemy płyty z półki tylko Twoja szybkość i wcześniejsza decyzja na jaki numer warto zapolować!!!

POLOWANIE już trwa!!! Jest jeszcze wiele atrakcyjnych numerów, które mogą być Twoje.

CD rozsyłamy od 12 lutego, a winyle kilka dni później, natychmiast po otrzymaniu ich z tłoczni.

Promocje płyty wpiera MySpace. Od soboty 6 lutego 2010 płytę w całości będzie można odsłuchać na profilu zespołu www.myspace.com/theanalogs