THE ANALOGS - S.O.S..... coraz bliżej....
2010-11-08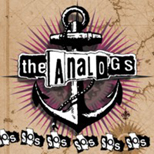 Nowy album THE ANALOGS jest już w drodze do Polski zatem zbliża się moment keidy płyta będzie doscierała do polskich fanów grupy. Juz dzisiaj album można zamawiać w naszym sklepie gdzie do odsłuchania także fragmenty trzech nowych utworów studyjnych.

Przygotowana na rynek rosyjski, wydana przez moskiewską wytwórnię Street Influence Records, płyta zawierająca siedem premierowych utworów studyjnych uzupełnionych siedmioma utworami koncertowymi nagranymi w szczecińskim klubie Kontrasty latem 2010 roku.

Zalączonym na krążku bonusem jest dziewięciominutowy film zatytułowany "Kilka piosenek o życiu" w reżyseri Pawła Siedlika, ze zdjęciami Arkadiusza Żyłki i montażem Mani.
Autorem okładki do albumu - podobnie jak w przypadku płyty "Miejskie opowieści" jest Michał Arkusiński.
Zamów album ---> THE ANALOGS - S.O.S.

Płytę rozsyałmy po otrzymaniu jej od rosyjskiego wydawcy.