Strona internetowa THE KOLT
2006-03-21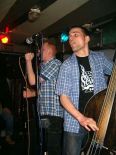 Pułtuska grupa THE KOLT zakończyła pracę nad swoją stroną internetową, która juz działa i przedstawia band wszytskim zainteresowanym. Na stronie do oglądnięcia sa m.in. zdjęcia z koncertów, mozna zapoznać się z tekstami kapeli, informacjami o koncertach i wielu innych sprawami mogącymi zainteresować fanów.
Bardzo klimatyczna grafika nawiązująca do tej znanej z debiutanckiego albumu The Kolt i identyfikuje styl w jakim tworzy zespół blioski garazowemu rocknrollowi, psycho i punk.

Przejście na stronę THE KOLT w naszym dziale z linkami, lub bezpośrednio --- THE KOLT.
Jednocześnie zapraszamy do działu ---> EXTRASY gdzie umieściliśmy nowy, niepublikowany utwór Kolta, "Pieśń o bohaterze"... doskonale znany wielu fanom przebój z repertuaru nieustniejącej grupy Dzieci Kapitana Klossa.
Debiutancki album THE KOLT "Neony Kina Narew" do nabycia w naszym ---> SKLEPIE.