Startujemy z zamówieniami na nowy album THE LUNATICS...
2011-05-24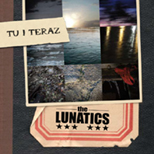 Jest w Warszawie nad Wisłą takie miejsce, które o każdej porze roku jest magiczne. Skąpane w promieniach sierpniowego słońca i skute lodem lutowej nocy, o czwartej rano we wtorek i po południu w sobotę. To z tego miejsca zrobiono wszystkie zdjęcia, które zdobią okładkę nowej płyty THE LUNATICS, zatytułowanej "Tu i teraz".

"Tu i teraz", bo właśnie tam i wtedy, niedaleko Mostu Świętokrzyskiego, tuż koło Pomnika Syrenki zrodziły się pomysły na wszystkie teksty, zawarte na tym krążku.

Trzeci album warszawskiej formacji nagrany został trzy lata po ukazaniu się poprzedniego krążka, zatytułowanego "Święci i grzesznicy" (Jimmy Jazz Records), na którym grupa dokonała muzycznej wolty zwracając się z jednej strony w kierunku bardziej (niż na debiucie) rock'n'rollowego repertuaru, a z drugiej sięgając po polskie teksty. Album ten ujawnił również fascynację muzyków bałkańskim punk rockiem i zaprezentował grupę jako sprawny team, który bez problemu dołączył do grona punkowych wykonawców drugiego szeregu czekających na właściwy moment aby zasilić grono najlepszych.

Wszystko wskazuje na to, że płyta "Tu i teraz" to kolejny milowy krok we właściwym kierunku. Nowy materiał, którego wydawcą ponownie jest Jimmy Jazz Records, nagrany został w warszawskim studiu Serakos, gdzie powstały m.in. albumy Komet, Riverside czy Farben Lehre. Do udziału w nagraniach muzycy zaprosili między innymi Jarka Ważnego (KULT, BULDOG) oraz znanego w środowisku hip-hopowym Tego Typa Mesa, (także Flexxip i 2cztery7), który na potrzeby współpracy z THE LUNATICS, otworzył rockową część swojej duszy. 
"Tu i teraz" to trzynaście punk rockowych hitów, zespołu, który w ciągu 6 lat swojej działalności zagrał ponad 90 koncertów w Polsce, oraz poza jej granicami. Czasem bliżej punk rocka, czasem hardcore, czasem zdradzając fascynację muzyką jamajską.  Zawsze z pełną energią i zawsze wbrew schematom.
"Tu i teraz" to także trzynaście oryginalnie opowiedzianych historii o mieście, rozgrywających się w nim codziennie dramatach i radościach, o rozstaniach, zdradach, nocnych klubach, zdolności kredytowych, bananowej młodzieży, życiu po życiu, miłości do muzyki i nienawiści do scenowych schematów, przyjaźni, dziewczynie otoczonej przez ptaki i innej dziewczynie otoczonej przez mężczyzn.

Inspiracje? The Clash, Warszawa o czwartej rano, Patrice Hollman, koty (dwu i czworonożne), bezsenność, Beatsteaks, poker, dobre jedzenie, piękne kobiety i wagony Warsu….

Premiera "Tu i teraz" 28 maja, ale już teraz zapraszamy do naszego sklepu gdzie można zamówić płytę oraz przesłuchać sample kilku utworów.
Zamów ---> CD THE LUNATICS - "Tu i teraz"