Spraw sobie gramofon!!!!!
2007-10-24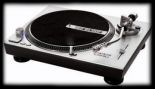 Każdy kto śledzi na bieżąco nasze kolejne premiery zapewne zauważył, że coraz cześciej sięgamy po albumy wydane w wersjach winylowych zarówno jeśli chodzi o własne wydawnictwa Jimmy Jazz jaki i te, których dystrybucją zajmujemy się w Polsce (People Like You, Grover Records...).
Z jednej strony wynika to z naszej słabości do czarnych płyt, a z drugie z zainteresowania odbiorców oferowanej przez nas muzyki.
Częste rozmowy z naszymi klientami na temat winylowych krażków ujawniły dośc powszechną praktykę polegającą na kolekcjonowaniu albymów winylowych bez mozliwości ich odsłuchania z powodu.... braku gramofonu.

Szczęścliwcy, którzy posiadają stare modele niedostepnych już od lat gramofonów, produkowanych niegdyś w Polsce, nie mają takich problemów jednak ci, których fascynacja winylowym nośnikiem przypadła na okres ostatnich lat mogą mieć ze zdobyciem odtwarzacza pewien problem.

Postanowilismy ułatwić im życie i od jakiegoś czasu w ofercie naszego sklepu znajdują się także gramofony.... nowoczesne, funkcjonalne i w przystepnych cenach, przeznaczone do odtwarzania winylowych, tradycyjnych płyty. Aby zapoznać się z ofertą wystarczy odwiedzić naszą stronę ---> GRAMOFONY.
Tam też mozna dokonać zamówienia, analogicznie jak w przypadku innych zamówień na płyty lub ciuchy.
Zamówiony sprzet dostarczany jest do odbiorcy w bezpiecznym opakowaniu, przesyłką kurierską. Koszt przesłki to 22 zł doliczany do ceny sprzętu.
Zapraszamy do odwiedzania sklepu i zapoznania się z naszą ofertą