"Songs For Demolition"...
2008-05-17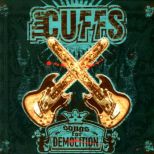 Jest już dostępny nowy album grupy THE CUFFS, formacji tworzonej przez muzyków z Kujaw, Warmii i Mazowsza, związanych w przeszłości i obecnie m.in. z takimi formacjami jak: Schizma, 666Aniołów, The Kolt, Robotix, In the name of God i Tuesday...
Pierwszy krążek the Cuffs zatytułowany "Rock On" wydany został w 2006 roku przez Jimmy Jazz Records. Wydawcą nowej płyty, zatytułowanej "Songs For Demolition" jest firma Burning Chords Records.
Na nowym albumie THE CUFFS kontynuują to co rozpoczęli na debiucie. Ostra hc-punk-rock'n'rollowa luta na wysokim poziomie, tak samo niezmiennym jak fascynacje muzyczne zespołu, w których każdy słuchacz odnajdzie to co jest mu najbliższe pod warunkiem, że kocha gitarową jazdę bez trzymanki... w jednakowym stopniu ceni dokonania takich kapel jak Motorhead, Misfits, Turbonegro czy Ramones...
Album zawiera 15 nowych kompozycji zaśpiewanych po angielsku...
Zamów płytę ---> THE CUFFS "Songs For Demolition"

Zobacz takze ---> THE CUFFS "Rock On"