Slipmaty... Sprawdź nowe wzory....
2016-07-07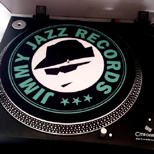 Jakiś czas temu dostaliście od nas sygnał, że w naszym sklepie pojawiły się slipmaty. Pierwsze wzory powoli znajdowały swoich nabywców i pytaliście o następne, które obiecaliśmy wkrótce.... Nowe projekty slipmat pojawiły się w naszym sklepie już kilka tygodni temu ale Babilon, który wciąga nas często i gęsto zadbał o to abyśmy przegapili fakt poinformowania o tym zainteresowanych.
W naszej ofercie znajduje się już 11 wzorów slipmat które znajdziecie tylko w sklepie Jimmy Jazz Records... W ostatnim czasie doszły slipmaty z wzorami dla fanów komet i Partii oraz z nowym logiem Jimmy Jazz Records. Zadbamy oczywiście o to aby wkrótce oferta nabrała jeszcze pokaźniejszych rozmiarów ale póki co zostawiamy was z trudnym wyborem dotyczącym tego w co ubrać wasz odpoczywający gramofon...


Taka to już natura slipmat, że jednym służą do tego aby płyty nie urywały im palców, a innym do tego aby talerz gramofonu wyglądał lepiej niż zazwyczaj wygląda. My należymy do tych, którzy preferują drugą wersję wydarzeń i przez długi czas staraliśmy się zapewnić sobie komfort posiadania takich slipmat jakie sobie tylko wymarzymy i aby nasz gramofon poza spełniania funkcji do której został stworzony mógł też w chwilach bezrobocia fajnie wyglądać.
Dla każdego coś miłego - tą zasadą będziemy kierować się przy kolejnych wzorach i ona przyświecała nam przy przygotowaniu tych aktualnych... Jest już w czym wybierać zatem miłych wrażeń i zapraszamy do sklepu.
Sprawdź --->
SLIPMATY