ST. CITY SURFERS + THE SANDALS + BIMBA SOUND SYSTEM
2008-01-18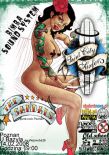 14.02.2008 zapraszamy do klubu U Bazyla (Poznań, ul. Św. Wojciech 28) na Rock'N'Rollowe Walentynki.
Zagrają:
ST. CITY SURFERS (rockabilly/surf z Częstochowy)
THE SANDALS (punk rock Poznań)
a następnie muzykę z płyt przedstawi
BIMBA SOUND SYSTEM.

Początek imprezy o godz. 19.00, wstęp 8 PLN.
ST. CITY SURFERS - to jak wskazuje nazwa - kwartet ze "Świętego Miasta " – Częstochowy, grający mieszankę klasycznej muzyki surf i rockabilly. Kapela powstała w wakacje 2006 i dwa miesiące później zadebiutowała na scenie u boku warszawskich Komet. Dziś gra już regularnie koncerty w całej Polsce, m.in u boku takich grup jak The Surfstones, Komety, The Jet-Sons, Pavulon Twist, Bulbulators czy Analogs a także grup z zagranicy jak - The Silver Shine, Flaming Cocks czy The Shadow Birds. Mają na koncie udział w takich imprezach jak "Piknik Rockabilly", "Surf & Rock'n'Roll Night" czy zlot amerykańskich samochodów. W grudniu 2007 ukazał się pierwszy studyjny singiel "The Gun In Your Hand / Escape From The Wave" dzięki któremu grupa zyskuje kolejnych fanów. W skład grupy wchodzą: Monica Saint – śpiew, klawisze, Jack Saint – gitara, śpiew, Luke Saint – bas, śpiew i Gregory Saint – perkusja.
www.myspace.com/stcitysurfers
THE SANDALS – to formacja street punk działająca od ponad trzech lat i mimo krótkiego stażu dobrze już znana wielkopolskiej publiczności. Niedawno ukazał się na CD debiutancki album zespołu "Muzyka przeciwko Tobie". Grupę tworzą; Wiącas (śpiew, perkusja), Kalafior (bass), Banan (gitara) i Piter (gitara)

www.myspace.com/sandalsoi
BIMBA SOUND SYSTEM to poznański duet selektorski: Acid i Radziu. Muzyka prezentowana przez Bimba Sound to w dużej części foundation tunes, czyli klasyczne brzmienia ska, rocksteady i roots reggae z odrobiną nowszych produkcji. Acid dodatkowo udziela się okazjonalnie na warszawskich imprezach organizowanych przez zaprzyjaźnioną załogę z Booyake Sound System a Radziu współtworzył m.in Vibes w namiocie off obok sceny sound systemowej w Płocku..