SPOOK RECORDS atakuje!!!
2008-11-21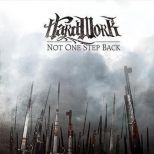 Prężnie działająca firma Spook Records będąca w chwili obecnej jednym z najbardziej widocznych wydawnictw promujących wykonawców z kręgu Hardcore nie spoczywa na laurach. Po serii wydawnictw wydanych w zeszłym i bieżącym roku przynoszących sporą ilość hardcore w różnych odmianach przyszła pora na kolejne tytuły w katalogu wytwórni. Tym razem fani ostrej jazdy mają okazję sięgnąć po wydawnictwa formacji REARRANGE "Jednej sprawie oddani" i HARD WORK "Not One Step Back".
Zapraszamy do bliższego kontaktu zarówno z wytwórnią jak i reprezentującymi ją wykonawcami.


Poniżej prezentujemy krótkie notki o najnowszych tytułach:
REARRANGE "Jednej Sprawie Oddani"
Ekipa z Biłgoraju nareszcie doczekała się swojego debiutu. Pod skrzydłami Spook Records ukazała się 13 października 2008 płyta, nad która pracowali przez ostatnie lata!!
Rearrange istnieje od 2001, powstali na gruzach wcześniejszych projektów, poważnie podchodząc do spraw scenowych co dobrze widać w ich tekstach. Stylistka to oldschool hardcore w surowym starym stylu. Ktoś rzucił hasłem, że ich brzmienie to coś jak stara Schizma ale nie nam to oceniać tylko tym, którzy zechcą sięgnąć po album. Płyta to 12 mocnych numerów w całość po polsku!!
Hard Work "Not One Step Back"
Legendarna już dziś śląska formacja działająca nieprzerwanie od ponad 12 lat.Przez ten cały czas ciężką pracą, zaangażowaniem i szczerością zapracowała sobie na miano jednego z najlepszych zespołów hard-core pochodzących z południowych rejonów kraju i śmiało można postawić ich obok takich ikon polskiej sceny jak 1125 czy Schizma.
Pod koniec listopada 2008 nakładem Spook Records pojawi się długo oczekiwana nowa płyta Ślązaków. Jedna z najbardziej oczekiwanych premier tego roku! "Not One Step Back" to 14 mocnych utworów utrzymana w stylistyce oldschool hc jednocześnie posiadając moc i agresje zaczerpniętych też z innych odłamów hc.