SKAMPARARAS - Street Ska!!!
2008-04-26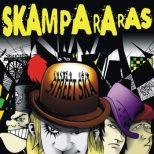 Skampararas to marka znana już na polskiej scenie ska. Grupa zadebiutowała w 2000 roku, doskonale przyjętym, albumem "Jedność i zwycięstwo", który do dzisiaj cieszy się sporym zainteresowaniem fanów muzyki ska. Znalazł się na nim dynamiczny materiał, w którym ska dominowało nad pojawiającymi się niekiedy rytmami punkowymi. Dwa lata później zespół zarejestrował kolejny materiał na płytę. Krążek o tytule "Bawcie się" wydany został w Czechach, a następnie w Polsce przez Jimmy Jazz Records. Albumem tym Skamapararas potwierdzili swoje aspiracje do bycia jedną z czołowych formacji ska w kraju. Koncertując w Polsce i zagranicą, przechodząc po drodze kolejne zmiany zmiany składu, w końcu roku 2007 zespół wszedł do studia aby nagrać nowe kompozycje.
Efektem sesji w studio Spaart w Boguchwale jest materiał "Street Ska" stanowiący zawartość nowego albumy grupy.Także tym razem zespół skupia się na jamajskim brzmieniu porywając słuchaczy do tańca przy dynamicznych, przebojowych kompozycjach utrzymanych w stylistyce współczesnego ska, jak i bardziej stonowanych – nie mniej miłych dla ucha – utworach utrzymanych w stylu rocksteady. Tradycyjnie wizytówką grupy jest także obecność dwójki wokalistów...
Niekiedy zespół przypomina sobie o bardziej ostrych rytmach, ale incydentalnie i głównie po to aby pokazać, że tworzenie przebojowych kompozycji w bardziej punkowym stylu przychodzi muzykom z równą łatwością."Street Ska" dowodzi, że przez ostatnie lata Skamapraras dojrzeli muzycznie, uzyskali pełniejsze brzmienie, a ich repertuar zyskał większą spójność... Wszystko to jeszcze bardziej podkreśla przebojowość nowych utworów zespołu, które nie zawiodą starych fanów, a z pewnością też przysporzą grupie nowych..
Pierwszym singlem promującymi album "Street Ska" w rozgłośniach radiowych jest utwór "Tym co przetrwali"..., który udostepniamy także w naszym dziale ---> MP3
Premiera albumu 28 kwietnia 2008, a do tego moemntu w naszym sklepie krążek można zamówić w niższej cenie 20 zł. Od dnia premiery cena wraca do normalnego pułapu większości albumów z Jimmy Jazz Records (25 zł.).
Zamawiającym przypominamy o opłacie za przesyłkę i pobranie w wysokości 11 zł. (Przy zamówieniach powyżej 100 zł. zmawiający nie płaci za pocztę i pobranie, a jedynie za zamówione płyty, my pokrywamy koszty pocztowe).
ZAMÓW w specjalnej cenie:
---> SKAMPARARAS "Street Ska"