Romans brukowy.... z OBIBOX'em. Nowy album już dostepny.
2011-03-25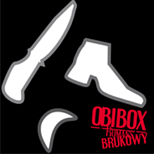 Obibox to warszawskie trio, grające miejski rock'n'roll z punkowo - garażowym pazurem.
Pierwsze nagraniowe objawienie zespołu miało miejsce w roku 2004, przy okazji wydania przez Jimmy Jazz Records albumu "Psycho Attack Over Poland", prezentującego rodząca się w Polsce scenę rockabilly/psycho. Później zespół pojawił się także na płycie dołączonej do magazynu Garaż, aby po okresie pracy nad wykształceniem, własnego, rozpoznawalnego stylu wejść do studia z zamiarem zarejestrowania materiału na płytę.

Sesja nagraniowa zorganizowana w końcu 2007 roku zaowocowała powstaniem 12 utworów, a grupa zadebiutowała albumem "Obibox" wydanym w maju 2008 roku przez Jimmy Jazz Records, na którym OBIBOX nie kryje swojej fascynacji wczesnym rock'n'rollem i jego bardziej współczesną odsłoną zabierając nas na muzyczne spacery w mroczne zaułki, przy świetle księżyca oświetlającego miasta grzechu…

19 marca 2011 roku ukazał się drugi album zespołu, którego wydawcą jest nowopowstała, warszawska oficyna Spółdzielnia.
W założeniu muzyków krążek o tytule "Romans brukowy" nawiązuje do Warszawy lat 50, znanej z kart "Złego". Znaleźć tu można także wyraźne ślady fascynacji miejskim folklorem. Wnikliwi czytelnicy powieści Tyrmanda znajdą odniesienia do treści książki.
Na płycie znalazło się kilkanaście piosenek o wielkomiejskim życiu, przenoszących nas do miejsc, w których miłość spotykamy z taką samą łatwością jak  złodziei, chuliganów czy bikiniarzy.

"Romans brukowy" to muzyczna podróż w czasie. Inspiracje Obiboxów sięgają lat 50. i 60. ub. wieku i takich gatunków jak rockabilly, garage, surf, a nawet country, choć grupa nie daje zapomnieć o swoim punkowym rodowodzie.  
Surowe, archaiczne brzmienie płyty podkreśla kontrabas, który zespół konsekwentnie wykorzystuje jako jedną ze swoich scenicznych wizytówek.
Album promuje piosenka "Na koniec świata", do której nakręcono teledysk przywołujący atmosferę lat 50.

Płyta jest już dostępna w naszym sklepie. Na karcie produktu do obejrzenia teledysk "Na koniec świata" oraz sample kilku utworów.

Zamów ----> CD OBIBOX - "Romans brukowy"