Reedycje płyt THE EXPLOITED.
2005-06-28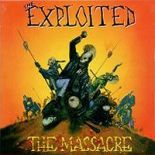 Firma Captain Oi! Records wznowiła kolejne dwa albumy THE EXPLOITED. Tym razem w postaci digi-packów pojawiły się "Death Before Dishonour" i "The Massacre".
Obie płyty poza starannym wydaniem uatrakcyjnionym ksiązeczkami z tekstami, fotkami i notką o płycie i zespole posiadają sporą ilość bonusowych nagrań. Podstawowy materiał "Death Before Dishonour" uzypełnia 7 nagrań z dwóch EP-ek grupy "Jesus Is Dead" i "War Now", natomiast na "The Massacre" 4 znajdujemy nagrania koncertowe zarejestrowane podczas występów The Exploited w Japonii w 1991 roku.
W kolejce do wydania czekają kolejne tytuły zapowiadane przez wytwórnię. Będą to nowe albumy CHELSEA ("Faster, Cheaper & Better Looking") i CRASHED OUT ("Pearls Before Swine"), a takze reedycje krązków THE RUTS ("Grin'n'Bear It"), THE SKIDS ("Scared To Dance"), THE PROFESSIONALS ("Best Of"), MENACE ("Complete Singles Collection") i INFA RIOT ("Best Of"). Wkrótce potem światło dzienne ujrzą nowe albumy ANGELIC UPSTARTS i ARGY BARGY.
Więcej na stronie CAPTAIN Oi! RECORDS.