Reedycja pierwszego albumu Partii na CD i winylu...
2011-09-29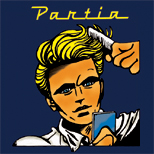 Zgodnie z naszą zapowiedzią sprzed roku kontynuujemy reedycje płyt legendarnej, warszawskiej Partii, zespołu, który odcisnął niepodważalne piętno na krajowej scenie niezależnej i stał się inspiracją dla wielu artystów.

Grupa nie istnieje od lat, a fani swoją miłość do jej twórczości przelali na Komety, którymi niezmiennie dowodzi Lesław, będący także głównym filarem Partii.

W listopadzie ub. roku wytwórnia Jimmy Jazz Records z dumą dołączyła do swojego katalogu album "Umrzeć jak James Dean", będący niczym innym , jak wydawnictwem z kategorii "The Best Of...", której to płyty zespół nigdy się nie doczekał choć z pewnością na nią zasłużył.

Krążek wydany w postaci płyty CD i winylowego LP spotkał się z doskonałym przyjęciem fanów. Kolorowy nakład winyla wyprzedał się praktycznie w jedną noc, kiedy to w sklepie Jimmy Jazz Records trwała "walka o numery płyt" z limitowanego, numerowanego nakładu. Dzisiaj dostępne są już ostatnie egzemplarze płyty na czarnym winylu i zapewne jeszcze przed końcem roku nakład zostanie wyprzedany.

Na przełomie października i listopada w ręce fanów Partii oddamy reedycję pierwszego albumu grupy zatytułowanego po prostu "Partia". Album przed laty wydany został w postaci CD, kasety i LP, jednak dzisiaj nakłady wszystkich nośników są już niedostępne, a krążek winylowy jest białym krukiem na aukcjach i giełdach płyt.

Ci, którzy nie mieli okazji zaopatrzyć się w niego wiele lat temu, teraz będą mogli nadrobić zaległości. Reedycja pojawi się w formacie CD i na winylu. Tym razem fani dostaną do wyboru jego trzy kolory: czarny, zielony i żółty.

Każdy egzemplarz płyty winylowej będzie numerowany, a całkowity nakład wydawnictwa to 330 sztuk.

Zarówno CD jak i LP będą miały poprawioną okładkę, a płytę winylową uzupełniać będzie wkładka z tekstami.....

Więcej szczegółów o reedycji pierwszego albumu Partii wkrótce...