Reaktywowali sie KOLABORANCI.
2006-11-22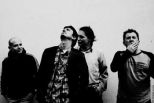 Reaktywowała się, znana w latach 80-tych ubiegłego stulecia, szczecińska grupa Kolaboranci. Zespół wznowił próby i przygotowuje się do pierwszego po altach koncertu, który odbędzie się 13 grudnia 2006 w nieznanym jeszcze miejscu. Bliższe dane na jego temat podane zostana 1 grudnia 2006.
Kapela obecnie działa w składzie: Przemysław Thiele (wokal), Lech Grochala (perkusja), Kamil Madera (bass), Michał Zmaczyński (gitara).
W lutym przyszłego roku wznowiony zostanie na CD ostatni, nagrany przez zespoł, album pt. "Kukieł".
KOLABORANCI - Odrobina historii.
1986
Zawiązanie zespołu z inicjatywy Przemka Thiele (śpiew) i Marka Chrzanowskiego (bas).
Skład dopełnili: Tadeusz Balandyk (gitara) i Krzysztof Woźniakowski "Nosek" (perksja).
1987
Zmiana w składzie: "Nosek" zostaje zastąpiony przez Piotra Banacha.
Pierwsze koncerty w Szczecinie i na "Famie", Jarocin 87
Marek Chrzanowski otrzymuje powołanie do wojska, jego miejsce zastępuje młodszy brat Jacek Chrzanowski.
Wydanie pierwszego demo "Potęga Blusa"
1988
Kolejne koncerty: m. in. Zgorzelec, Fama, Jarocin 88, festiwal w Chojnowie.
Drugie demo "I my kiedyś będziemy grać przeboje"
1989
Składanka "Letnia zadyma w środku zimy"
Składanka "Jarocin 88"
Demo "The Heat"
1990
Sesja nagraniowa na pierwszą płytę, po której grupę opuszcza Piotr Banach.
Premiera albumu "A może to ja".
Koncert na "Róbrege" - Torwar
1991
Płyta "Znów po stronie większości"
Występ w Jarocinie.
Kolabonight w klubie "Atut".
1992
Zmiana na stanowisku gitarzysty: miejsce Krzysztofa Saka zastępuje Wojtek Wójcicki.
Okazjonalnie absencję Lecha Grochali wypełnia Kuba Rutkowski.
Nagranie i wydanie płyty "Ciało i drewno"
1993
Występy w Niemczech.
Kolabonight w klubie "Słowianin"
1994 / 1995
Powstanie nowego składu: Przemek Thiele (śpiew), Kamil Madera (bas), Kuba Rutkowski (perkusja), Mariusz Bączkiewicz (gitara).
Praca nad nowym materiałem.
Kaseta "Kukieł"
Kolabonight w klubie "Trans" – to jednocześnie ostatni koncert zespołu.
Zawieszenie działalności.
2006 - wznowieniew działalności:)
DYSKOGRAFIA:
Potęga Blusa (1987) – DEMO
I my kiedyś będziemy grać przeboje (1988) – DEMO
The Heat (1989) – DEMO
A MOŻE TO JA (1990) – MC, LP, CD
ZNÓW PO STRONIE WIĘKSZOSCI (1991) – MC, LP, CD
CIAŁO I DREWNO (1992) – MC, CD
KUKIEŁ (1995) – MC
MY URODZENI W LATACH 60 (demówki 1987-89) (2002) - 2CD
KUKIEŁ (2007 luty) – CD
LUDZIE którzy grali i współpracowali w KOLABORANTACH
Przemysław Thiele - głos (1986-95, 2006) – od 1996 działa solowo
Marek Chrzanowski BRUNO - bas (1986-87) – później m. in. Wilki, John Porter
Krzysztof Woźniakowski NOSEK - perkusja (1986-87)
Piotr Banach - perkusja (1987-89), gitara (1989-90) – później Hey, obecnie Indios Bravos
Jacek Chrzanowski - bas (1987-93) – obecnie Hey, Dezerter
Tadeusz Balandyk - gitara (1986-89)
Lech Grochala GROSZEK - perkusja (1989-94, 2006) – później i obecnie wiele szczecińskich składów (m. in. Firebirds)
Krzysztof Sak - gitara (1989-91) – obecnie Indios Bravos
Wojciech Wójcicki - gitara (1991-94) – później m. in. Kasia Kowalska, Ewelina Flinta, Maciej Silski
Kamil Madera - bas (1993-95, 2006) – później m.in. Firebirds
Kuba Rutkowski - perkusja (1992, 1995) – obecnie m. in. współtwórca projektów Macieja Maleńczuka
Mariusz Bączkiewicz - gitara (1995) – równolegle Quo Vadis
Michal Zmaczynski - gitara (2006) – równolegle Silo
Kolaboranci w ---> internecie